"Influential" TV Anchor Bret Baier '92 Featured in Baltimore Sun
September 16, 2010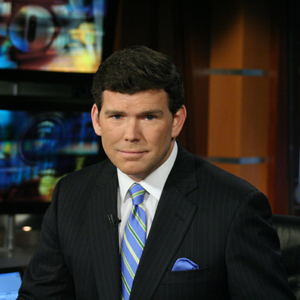 September 16, 2010, Greencastle, Ind. — Bret Baier, Fox News anchor and 1992 graduate of DePauw University, "steps up this fall as lead political news anchor on Election Night replacing Brit Hume, who moved after the 2008 elections to the role of senior political analyst," notes the Baltimore Sun's David Zurawik. "Given the way Fox News has come to lead in ratings for coverage of political events since CNN's glory days during the presidential campaign of 2008, Baier's ascension makes for a significant changing of the guard in broadcast journalism. The seat he now occupies in Fox's Washington studios is one of the most influential in American political life."
"I dreamed of taking over for Brit Hume -- I really did," says the 40-year-old Baier, who joined Fox in 1998 and is anchor of Special Report with Bret Baier.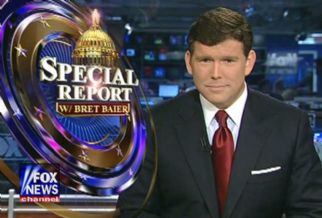 "And when I thought about what I really wanted to do with my career, it was to cover politics at a time when people were really interested in politics. And this is that time. The TV business is often like a ladder where you're always thinking about the next rung. I'm not anymore. I'm thinking about the next show. I feel incredibly blessed to be where I am at this point in my life."
The column reports that Baier has been called upon to moderate an October 4 debate in Connecticut between U.S. Senate candidates Richard Blumenthal and Linda McMahon. "His Special Report is the fourth-highest-rated show in cable TV news, behind only those of Fox colleagues Bill O'Reilly, Glenn Beck and Sean Hannity," writes Zurawik. "And those three host highly opinionated programs as opposed to Baier's nightly newscast. As for his hour
of news from 6 p.m. to 7 p.m. weeknights, Baier almost doubles the combined audience of his competitors on CNN and MSNBC."
Of his much-discussed March interview with President Obama, Baier states, "Look, it was the only interview he was doing. And I did get a sense at one point that he was saying the same things he had said earlier in the week on the stump -- essentially stumping for the health care package. He was kind of holding the ball. And I had come to a point in that interview where I was either going to continue to press for answers or roll over and let the limited time, which had already been cut down, expire. I tried to do it in as respectful a way as I could."
Baier, who first came to the network as its Atlanta bureau chief, declares, "The thing about Fox is that
we've always had this kind of scrappy attitude that we still want to fight and we still want to scrap for everything we can get, even though we've been No. 1 for a long time." He adds, "You know the Fox Atlanta bureau that I joined in 1998 -- that started in my apartment in Atlanta with a fax machine and a cell phone. That was the bureau. And I still have that sense of us being that startup that is still trying to make it all come together. And I have to say, I really like that."
The complete piece can be found at the newspaper's website.
In March 2008, Baier returned to his alma mater to discuss his career and to praise the advantages of a DePauw degree. A story with audio clips can be accessed here.
Back