The Science of Crime
September 28, 2010
Most people know something about forensics even if their source is the television show, CSI – Crime Scene Investigation. A crime is committed and then deconstructed in the lab using various forensic techniques – including a broad spectrum of sciences that contribute to providing answers in the courtroom.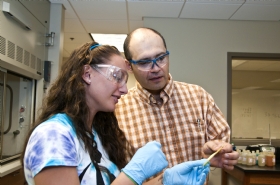 Thirteen DePauw students are discovering the depth and intricacies of this type of scientific investigation in their first-year seminar, Forensics – The Science of Crime.

Richard "Rich" C. Martoglio, assistant professor of chemistry and biochemistry and director of the Quantitative Reasoning Center, developed the seminar two years ago during his pre-tenure leave. He's teaching the course for the first time this semester.

"Forensics is such a huge area of science – there are so many subdisciplines," Martoglio says. "I think the seminar speaks to first-year students. They may have five ideas of what they want to study, and if they are science related, they may fall under this umbrella of forensic science – psychology, psychiatry, medicine, biology and chemistry.

"People are naturally curious. Being curious and investigative and wanting to find the answer are key aspects of science. The seminar is a really good introduction, if students are thinking about science as a career.

"A lot of people can relate to the show, CSI, and maybe that sparks someone's initial interest in this
field," Martoglio says. "For me, as an analytical chemist, forensics falls into it naturally."

The seminar was originally designed as a chemistry class, and Martoglio adapted it to a first year seminar – shifting the focus from chemistry to forensic science. "However, as a chemist, I find myself gravitating toward talking more about chemistry whether I realize it or not. That's where my initial interest lies," Martoglio says.

Students meet in lab once a week. Their first assignment was to document a mock crime scene in the basement of the Percy Lavon Julian Science & Mathematics Center. There had been a physical altercation, and someone was injured. The crime scene had been secured, and the victim had been removed and transported for medical care.

"The goal in the lab is not to solve a crime but to understand what investigators do when they have a crime scene – the process by which they document it. Each group included someone who was responsible for photographing, sketching, tagging evidence and taking notes.

Other labs include: the chemistry of fingerprinting; using chromatography to analyze inks and lipsticks; using chemistry and UV-visible spectroscopy to detect and quantify substances; and the role of DNA in criminalistics.

"We're in a building phase right now. We learn the fundamentals, and then we learn about evidence," Martoglio says. "We'll also talk about case studies. For every evidence type, there are interesting case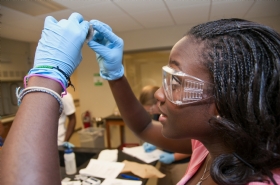 studies that illustrate the importance of that evidence and how it's properly collected so that it's admissible in court.

"It's important for students to see the amount of effort and work that it takes on the part of investigators, scientists and analysts to pore through the material. It's not something that happens instantly. It's important to see that sometimes results aren't always clear-cut – maybe the results are inconclusive.

"Forensic science is ultimately tied to a courtroom," Martoglio says. "So, students need to think about what happens in court, how evidence is presented in an adversarial arena, and understand the criteria for evidence to be admitted."

Criminal defense attorney Laura Paul will visit the class later in the semester. Martoglio says that the students will be prepared to ask her questions. "Their notion of something may not be completely accurate, and that's why I'd like for them to talk to a professional," Martoglio says.


"We're not just focusing on the science aspect of forensics, but we're focusing on its relationship to law as well. It's been really interesting and a learning process for me, too," Martoglio says.

Caroline R. Hall '14 is pleased to be in the class because of her interest in forensics. "I've wanted to be a forensic psychologist for a long time, so this class is helping me to decide if that's something I'd really like to pursue.

"This class has changed my perspective of forensics and has allowed me to think more critically," Hall says.

"Forensic science is strenuous, detailed work," Mackenzie R. Steckler '14 says. "It's not often comparable to the television shows we watch. There are not normally black-and-white results when analyzing evidence – forensic science has a lot of gray areas.

"The seminar has really reinforced my initial plan of majoring in a field of science. The class has been a lot of fun," Steckler says.
To learn more about First-Year Seminars, click here.
Back