Cummins and CEO Tim Solso '69 Featured in Ethikos
September 29, 2010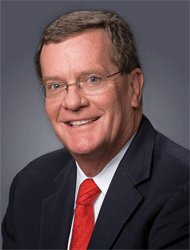 September 29, 2010, Greencastle, Ind. — Ethics matter to Cummins and its chairman and CEO, Tim Solso. The new issue of Ethikos notes, "About 10 years ago, the $11 billion (2009 sales) company stationed 10 'master investigators' around the world to manage investigations into alleged ethics violations involving Cummins' employees. The investigators report to Sondra K. Bolte, human resources (HR) director," writes Andrew Singer. "Last year the company conducted some 800 investigations, half of which (about 400) were substantiated."
The text adds, "There is nothing particularly unusual in this. What sets Cummins apart from most other large companies, however, is that each substantiated investigation summary -- a single report typically runs one to two pages -- is read by Cummins Inc.'s chairman and CEO, Tim Solso."
A 1969 graduate of DePauw University, Solso recalls a lesson he learned from J. Irwin Miller, the company's president from 1947 to 1951 and chairman from 1951 to 1977. "Mr. Miller taught me a long time ago that the only way you really know what's going on in your company is to walk the shop floor or the research labs," Solso tells the publication. "The company today is too big to do this, so reading these individual investigation reports is one way of learning about what's going in the organization at a grassroots level and how we are responding. It's important that I know that."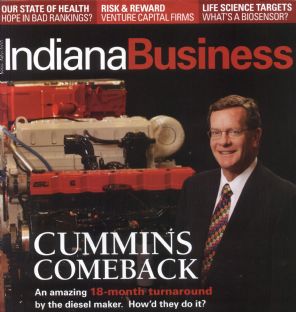 Solso winds up reading about 150 reports each quarter. He declares, "I see this as a fundamental responsibility, not an imposition. I am the senior person in management and I have great responsibility in the sense of creating the right environment and making sure that our people are treated well and have the opportunity to contribute to their full potential and their full ability."
The text adds, "The master investigators are stationed around the globe: in Australia (covering the south Pacific), Mexico, China, India, Brazil (covering Latin America), the UK (covering Europe, plus, most recently, Russia), Africa (including the Mideast), and Singapore (covering north and southeast Asia). Cummins, a truly global concern, draws more than half of its sales from overseas business. Three investigators are based in the United States. Most master investigators have human resources backgrounds."
The complete article can be found online here.
Barron's magazine recently listed Theodore M. "Tim" Solso, a former member of DePauw's Board of Trustees, as one of America's "30 Most Respected CEOs."
Back