17 from DePauw Contribute to Censored 2011: The Top 25 Censored Stories of 2009-10
October 3, 2010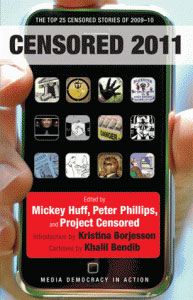 October 3, 2010, Greencastle, Ind. — Eleven DePauw University students and six faculty members made contributions to the new book, Censored 2011: The Top 25 Censored Stories of 2009-10. Produced by Project Censored, the book compiles "the major new stories that were ignored or under-reported by a mainstream press too busy covering the latest junk food news story," notes a synopsis.
"Internet Privacy and Personal Access at Risk" is the work of DePauw student researchers Lynn Demos, Ben Solomon, Steve Wojanis, Trish Himmelein, Emily Schuler, Claire Apatoff, Erin Kielty, and Tom Rich. Faculty evaluators of the project included Jeff McCall, professor of communication; Dave Berque, professor of computer science; Brian Howard, assistant professor of computer science; and Kevin Howley, associate professor of communication. The DePauw students collaborated on the project with students at Sonoma State University. Other faculty evaluators were from Sonoma State, Diablo Valley College and the University of San Diego.
"Health Care Restrictions Cost Thousands of Lives in the U.S." is the work of DePauw students Delana Colvin, Shannon Cree, and Anna Kung, who collaborated on the
research with three Sonoma State students. Howley and Rebecca Bordt, associate professor of sociology at DePauw, teamed with three faculty members at Sonoma State to serve as evaluators.
Colvin, Cree and Kung also worked on "External Capitalist Forces Wreak Havoc in Africa" with two Sonoma State students. The faculty evaluators were Howley and Mandy Henk, coordinator of access services at DePauw, along with one faculty member from both Sonoma State and Diablo Valley.
"For 35 years, the project has distributed its censored list nationwide to shed light on the top stories not brought to you by the mainstream press," reports the San Francisco Bay Guardian. These days, stories are submitted, researched by students, filtered through LexisNexis to determine which outlets have covered them, and then voted on by a team of judges. An international network of 30 colleges and universities contributes to the project, and volunteers from around the world submit stories for consideration. At the end of each project cycle, the work is released in a compendium."
Learn more about Censored 2011 and order the book at Amazon.com.
Back