T.C. Steele Collection of Paintings to be Dedicated Friday
October 2, 2010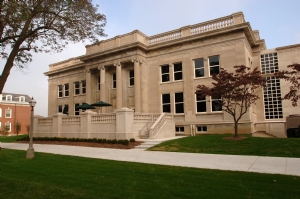 October 2, 2010, Greencastle, Ind. — A collection of Theodore Clement Steele paintings, which have been gifted to DePauw, will be dedicated at the University's William Weston Clarke Emison Museum of Art on Friday, October 8, during the University's Old Gold Weekend celebration. The public is invited to attend the program, which begins at 4 p.m.
During summer 2010, Betty Davis Givens '54, an avid collector of fine art, and her husband, David Givens (Wabash College '56), gave the University a museum-quality collection of T.C. Steele paintings.
The T.C. Steele paintings donated to DePauw include:
• Flowers Early August: Still Life with Flowers (1918)

• Forest in Summer (1918)
• Oregon Coastal Seascape (c. 1903)
• Portrait of Brandt Steele (1874)
• Still Life with Spring Flowers (1921)
• Two Women in Conversation (1908)
• Afternoon at House of Singing Wind (1908)
The dedication program will feature comments by Robert McKay Steele '69, Phyllis W. Nicholas Director of The Janet Prindle Institute for Ethics at DePauw, and Betty Givens. (at right: Steele's Winter in the Ravine)
Since graduating from DePauw, Betty Givens has enjoyed success in every walk of life and made a lasting impact on the city of Indianapolis through numerous, civic-leadership roles. She has served DePauw as a board member for Friends of the Arts, co-chaired her 50th class reunion in 2004 and was honored in 2009 with a Distinguished Alumni Achievement Award for community leadership and volunteerism. With her twin sister, Marjorie Davis Morehead '54, Betty endowed the Morehead-Givens Endowed Scholarship Fund, which provides financial support for DePauw students to travel abroad for the study of art. So far, 131 DePauw students have benefitted from this fund.
T.C. Steele was born in Gosport, Ind., and his family later moved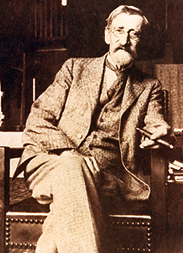 to Waveland, Ind. Early in his career, Steele specialized in painting portraits as he continued to receive art instruction in Cincinnati, Chicago and, eventually, Munich. After returning from Munich, Steele, his wife and children settled in Indianapolis in 1885. Soon thereafter he began to paint landscapes of the Indiana countryside almost exclusively, and he left the dim, dreary and dramatic Munich-style of painting behind. Steele's work became brighter and more Impressionistic, and it is these paintings that represent some of Steele's most acclaimed work.
T.C. Steele paintings are displayed at the Indianapolis Museum of Art, Los Angeles County Museum, Indiana University Museum of Art, Richmond Art Museum and President Benjamin Harrison home in Indianapolis.
In 1906, after the death of his first wife, Steele remarried and moved to secluded Brown County, Ind., where he built a home called The House of the Singing Winds, and there he painted in his Impressionistic style for the remainder of his life.
Learn more about the T.C. Steele State Historic Site in Nashville, Ind., by clicking here.
Visit the William Weston Clarke Emison Museum of Art online.
Back