TV Station Honors Voris & Mazur for Monon Bell Heroics
November 19, 1987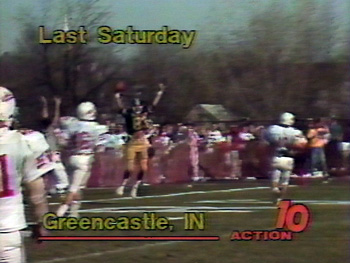 November 19, 1987, Greencastle, Ind. — The efforts of two DePauw University football players in reclaiming the Monon Bell from Wabash College last Saturday were recognized by Terre Haute television station WTHI this evening. The outlet named sophomore quarterback Jeff Voris and wide receiver Tony Mazur its "Athletes of the Week." Voris and Mazur connected on two touchdown passes in the Tigers' 33-11 victory.
"The duo's statistics speak for themselves," stated Brad Schultz. "Voris threw for 193 yards and 4 touchdowns. Two of the scores went to #83 Mazur, who finished with four catches for 56 yards."
"After last year's game where we lost in the last minutes to Wabash we decided, you know, the team came together and decided it wasn't gonna happen this year,"
Voris tells the station.
"JV found me twice in the end zone all alone and it worked out real well," adds Mazur.
"Last Saturday's heroics really shouldn't surprise anyone," notes Schultz. "Voris threw 19 scoring passes this season and Mazur led the team in scoring with 9 touchdown catches."
See the piece here:

[Download Video: "WTHI's Athletes of the Week" - 3722kb].
Also available is a "Monon Memory" with highlights of the 1987 battle for the Bell:

[Download Video: "1987 Monon Memory" - 3927kb].

Visit the Monon Bell Web page and read more about the history of the classic rivalry by clicking here.
Back