Sophomore Steve Hollar Gets Sneak Peek at His Performance in Hoosiers
August 27, 1986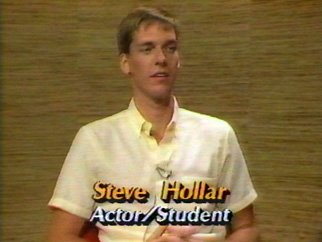 August 27, 1986, Greencastle, Ind. — A special screening of the upcoming film, Hoosiers, took place today, reports WISH-TV's Patty Spitler. "Steve Hollar was there. He's a (student) at DePauw and he also starred in the movie."
Hollar portrays Rade, the rebel on a basketball team which is coached by Gene Hackman in the movie, which is now slated for a January 2007 release. He's also a member of DePauw University's basketball team. He was a freshman when the film was shot last year and is currently in his sophomore year.
He describes his viewing his debut film performance as "good ... maybe the same as hitting the winning free throws in a basketball game, telling somebody you love them, that type of thing. It's a good feeling."
The film, which was shot in Indiana, also stars Barbara Hershey and Dennis Hopper.
See the clip here:

[Download Video: "Steve Hollar '89 on CBS Affiliate" - 3204kb].
Source: WISH (CBS)/Indianapolis
Back