Bob Giles '55 to Retire as Curator of Nieman Foundation for Journalism
October 1, 2010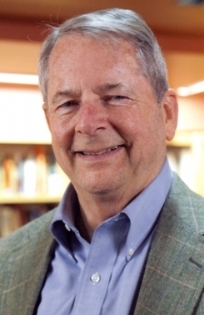 October 1, 2010, Greencastle, Ind. — Bob Giles, the curator of Harvard University's Nieman Foundation for Journalism and 1955 graduate of DePauw University, today announced that he will retire next June. The Boston Globe notes, "Giles has overseen the foundation amid seismic changes in the field of journalism, as print readers migrate to the web in increasing numbers. The foundation's achievements under his leadership include the establishment of the Nieman Journalism Lab in 2008 to foster collaboration on creating and promoting quality journalism in the Internet age."
Giles spent more than 40 years in the newspaper business. His career included stints as editor and publisher of the Detroit News, which he left in 1997 to become senior vice president of The Freedom Forum, a nonpartisan, international foundation dedicated to freedom of speech and of the press.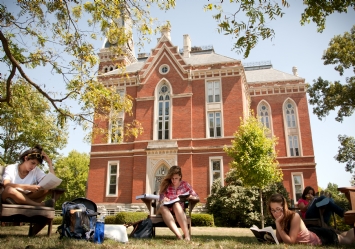 Two newspapers won Pulitzer Prizes under Giles' editorship: the Beacon Journal in 1971, when he was managing editor, and the Detroit News won in 1994, when Giles was editor. Giles won the Scripps-Howard Foundation's Distinguished Journalism Citation in 1978 for "outstanding public service in the cause of the First Amendment" and is the author of "Newsroom Management: A Guide to Theory and Practice."
"For me, the privilege of serving as curator has been an extraordinarily rewarding period in a long life in journalism," says Giles, 77, who received an honorary doctorate in journalism from DePauw in 1996. "It is time now for new leadership to build on what my colleagues and I have added to the program over the past decade."
"During a period of great turbulence in journalism, he has positioned the Nieman Foundation for continued success in the years to come," states Bill Wheatley, former executive vice president for NBC News and president of the Nieman Foundation Advisory Board. Wheatley praised Giles for his "superb contribution to the foundation's vitality and reputation."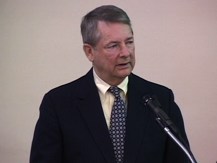 The full story can be found at the newspaper's Web site.
Giles was the keynote speaker in 2002 when The DePauw, Indiana's oldest college newspaper, celebrated its 150th anniversary.

[Download Video: "Perfect Laboratory" 785KB]

[Download Audio: "Perfect Laboratory" 382KB]"For a student who was beginning to believe that journalism could be his life's work, The DePauw was a perfect laboratory of engagement and discovery that gave me uncommon insights into the world of news," he declared in his address. "I loved it so much that, during the spring of my senior year, I easily gave up my place on the baseball team to become editor."
A story with video clips can be accessed here.
Back