Nobel Peace Prize Recipient Oscar Arias Coming for December 8 Ubben Lecture
October 12, 2010
October 12, 2010, Greencastle, Ind. — Oscar Arias, a Nobel Peace Prize recipient and two-time president of Costa Rica, will visit the campus of DePauw University on December 8 as a guest of the Timothy and Sharon Ubben Lecture Series. Arias, who stepped down as president five months ago and is known as a crusader for peace, will discuss "Moral Leadership in Today's World." The program begins at 7:30 p.m. in Kresge Auditorium, located in DePauw's Green Center for the Performing Arts (605 S. College Avenue). As with all Ubben Lectures, the speech is presented free of admission charge and the public is invited.
Dr. Arias served two terms as Costa Rica's president, first leading the country from 1986 to 1990 and then returning to the presidency from 2006 until his term ended
in May of this year. In 1987, he authored what came to be known as the Arias Peace Plan, an initiative that led to the end of military conflicts in five Central American countries. His efforts led to his being awarded the Nobel Peace Prize on December 10, 1987. He is internationally known as a spokesperson for the developing world, championing such issues as human development, democracy and demilitarization.
Upon receiving the Nobel, President Arias stated, "Peace is not a matter of prizes or trophies. It is not the product of a victory or command. It has no finishing line, no final deadline, no fixed definition of achievement. Peace is a never-ending process, the work of many decisions by many people in many countries. It is an attitude, a way of life, a way of solving problems and resolving conflicts. It cannot be forced on the smallest nation or enforced by the largest. It cannot ignore our differences or overlook our common interests. It requires us to work and live together."
Arias will become the eighth Nobel laureate to deliver an Ubben Lecture at DePauw, and the sixth recipient of the Nobel Peace Prize. The previous visitors included F.W. de Klerk, Mikhail Gorbachev, Shimon Peres, Willy Brandt, Elie Wiesel, Leon Lederman, and Ferid Murad, a 1958 DePauw graduate.
Oscar Arias Sánchez was born in Heredia, Costa Rica in 1940. He studied law and economics at the University of Costa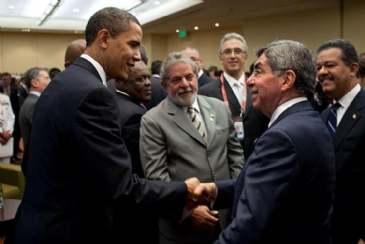 Rica and received a doctoral degree in political science at the University of Essex, England. After serving as professor of political science at the University of Costa Rica, Dr. Arias was appointed Costa Rican Minister of Planning and Economic Policy. He won a seat in Congress in 1978 and was elected secretary-general of the National Liberation Party in 1981. In 1986, he was elected president of Costa Rica. (at left: U.S. President Barack Obama greets President Arias at the Summit of the Americas in Port of Spain, Trinidad, April 17, 2009; photo by Pete Souza/White House)
Arias assumed office at a time of great regional discord. In the face of these threats, he intensified his efforts to promote peace. Even before assuming the presidency, Arias traveled throughout Central and South America to personally invite the Latin American heads of state to visit Costa Rica for his presidential inauguration. On the day he took office, the presidents of nine Latin American countries met in San José. In this meeting he called for a continental alliance for the defense of democracy and liberty. At that moment, Costa Rica, led by Arias, assumed an active role in the search for democracy and peace for the countries of the region.
In 1988, Arias used the monetary award from the Nobel Peace Prize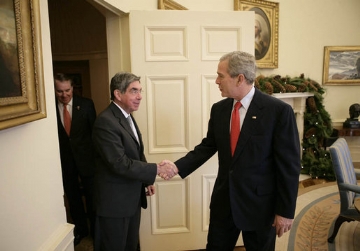 to establish the Arias Foundation for Peace and Human Progress. Under the auspices of the Foundation, three programs were established: the Center for Human Progress to promote equal opportunities for women in all sectors of Central American society; the Center for Organized Participation to foster change-oriented philanthropy in Latin America; and the Center for Peace and Reconciliation to work for demilitarization and conflict resolution in the developing world. From these same headquarters, Arias has continued his pursuit of global peace and human security.
In 2006, Arias was again recruited to run for the presidency of Costa Rica. His second tenure as president saw him push for worldwide disarmament; switching friendship with Taiwan for China; pushing through a regional free trade deal; attempting to help restore order in nearby Honduras; and promoting global improvement on environment issues.
Dr. Arias has received approximately 50 honorary doctorates from colleges and universities including Harvard, Princeton, Dartmouth, Oberlin, Marquette, and Washington University in St. Louis. He has also received numerous prizes, among them the Martin Luther King, Jr. Peace Award; the Liberty Medal of Philadelphia; the Jackson Ralston Prize; the Prince of Asturias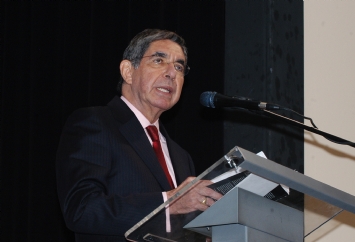 Award; the Albert Schweitzer Humanitarian Award; and the Americas Award.
Arias participates actively in several international organizations. He serves on the board of directors of the International Center for Human Rights and Democratic Development (ICHRDD), Economists Allied for Arms Reduction (ECAAR), the InterAction Council, the International Negotiation Network of the Carter Center, the Peres Center for Peace, International Crisis Group (ICG), and Transparency International. In addition, he has been part of the Commission on Global Governance and the Stockholm International Peace Research Institute (SIPRI), and is currently a member of the Independent World Commission on the Oceans. He is also an active member of the Inter-American Dialogue, the Society for International Development, and the Create 21, Asahi Forum.
"In any society, freedom can never be exercised without limits," President Arias has stated. "Thus, the more freedom we enjoy, the greater the responsibility we bear, toward others as well as ourselves. The more talents we possess, the bigger the responsibility we have to develop them to their fullest capacity. The opposite is also true: as we develop our sense of responsibility, we increase our internal freedom by fortifying our moral character. When freedom presents us different possibilities for action, including the choice to do right or wrong, a responsible moral character will ensure that the former will prevail."
Established in 1986 through the generous support of 1958 DePauw graduates Timothy H. and Sharon Williams Ubben, the Ubben Lecture Series was designed to "bring the world to Greencastle." Rebecca Skloot, author of the bestseller The Immortal Life of Henrietta Lacks, was on campus September 9 as an Ubben Lecturer. Other previous guests have included Tony Blair, Benazir Bhutto, General Colin Powell, Robert M. Gates, Howard Dean and Karl Rove, Spike Lee, Margaret Thatcher, Jason Reitman, Naomi Wolf, E.O. Wilson, Mike Krzyzewski, John Major, Jesse Jackson, Eric Schlosser, Ambassador L. Paul Bremer, Greg Mortenson, Barbara Bush, Todd Rundgren, Ross Perot, Mitch Albom, ice cream entrepreneurs Ben Cohen & Jerry Greenfield, General Wesley Clark, Andrew Young, Bob Woodward, Paul Rusesabagina, David Plouffe, Paul Volcker, Doris Kearns Goodwin, Ralph Nader, Harry Belafonte, Jane Pauley, Julian Bond, Gloria Borger, Steven D. Levitt, Liz Murray, David McCullough, Ken Burns, David Gergen, Sister Helen Prejean, Oliver Sacks, Paul Tsongas, Gwen Ifill, Brian Mulroney, William Bennett and Mary Frances Berry, among others. (above: Peyton Manning with Tim and Sharon Ubben; October 26, 2004)
To view a complete roster of Ubben Lecturers -- which includes links to video clips and news stories -- click here.
Back