Angie Hicks '95 Featured in Wall Street Journal
October 6, 2010
October 6, 2010, Greencastle, Ind. — "After graduating with an economics degree in 1995, 22-year-old Angie Hicks thought she'd work for a small business, preferring a close-knit environment that meshed with her small-town roots," notes the Wall Street Journal of the 1995 DePauw University graduate. "When venture capitalist Bill Oesterle, a former boss from a college internship, suggested they partner on a start-up, she never imagined they'd be laying the foundation of a national company. Together, they co-founded Angie's List, a review service of home-improvement companies designed to take the angst out of hiring contractors."
In the "How I Built It" column, Teri Evans reports, "Today, Angie's List has grown to more than one million members in some 200 cities and serves up reviews in 500 categories, primarily home and healthcare services. In the last two years alone, the 400-employee Indianapolis company raised $81.5 million from investors; it expect revenues -- from membership fees and select advertising from highly rated service providers -- to reach $60 million this year. Mr. Oesterle, who early on played an advisory and fundraising role, continues to serve as chief executive. Ms. Hicks, who ran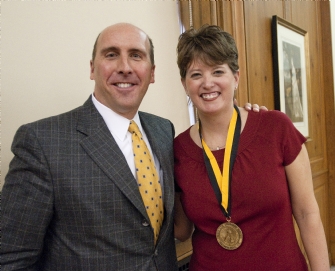 day-to-day operations, now serves as chief marketing officer." (at right: DePauw President Brian Casey with Angie Hicks)
In the interview that follows, Hicks discusses the anxious moments she experienced during the start-up's early days, and she advises young entrepreneurs, "Work at presenting yourself more maturely because it will help people take you more seriously. And don't get rattled by [skeptics], just because you're young. Let it roll off your shoulders and keep going."
Read more at the Journal's website.
In October 2009, Hicks -- who was an economics major and Management Fellow at DePauw -- was honored with the University's Robert C. McDermond Medal for Excellence in Entrepreneurship.
Back