ESPN Founder Bill Rasmussen '54 On Radio Tomorrow; Appears with Colts President on October 21
October 6, 2010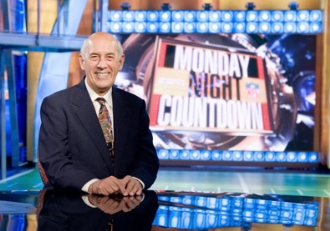 October 6, 2010, Greencastle, Ind. — Bill Rasmussen, founder of ESPN and 1954 graduate of DePauw University, will be a guest tomorrow on Indianapolis radio station ESPN 1070 The Fan. Rasmussen will be interviewed by Kevin Lee at approximately 1 p.m. (EST). A live stream can be accessed here.
Called "the George Washington of ESPN" by anchor Chris Berman, Rasmussen will speak in Fort Wayne, Indiana, on Thursday, October 21, at the Keith Busse School of Business and Entrepreneurial Leadership's 17th Annual CEO Forum. Hosted by the University of Saint Francis,
the program will also feature Bill Polian, president of the Indianapolis Colts. Read more here. (below: Rasmussen as a DePauw student in 1950, standing by The Boulder on East College lawn)
Bill Rasmussen's book, Sports Junkies Rejoice! The Birth of ESPN, was recently published in its first-ever paperback edition. He founded ESPN with his son, Scott, a 1986 DePauw graduate who is founder and president of Rasmussen Reports. The Washington Post recently called the younger Rasmussen "a driving force in American politics."
Learn more about the two men in this story.
Back