Prof. Randolph Elble '77 Awarded Four Grants to Study Cancer Therapies
October 10, 2010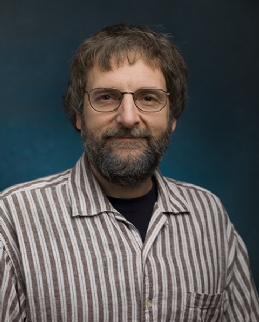 October 10, 2010, Greencastle, Ind. — Randolph C. Elble, assistant professor of pharmacology at Southern Illinois University School of Medicine and 1977 graduate of DePauw University, is the recipient of four federal grants to study the potential of several new therapies for cancer. One of the grants comes from the National Cancer Institute, and three are from the Department of Defense/U.S. Army. The awards total $763,875.
"One grant will investigate whether the toxins from a tropical ant venom are effective when used as a drug against metastatic breast cancer," reports the State Journal-Register of Springfield, Illinois. "A second grant will test a secreted form of a protein, CLCA4, as a possible way to suppress metastatic breast cancer. A third grant will study
whether CLCA2, delivered by a harmless virus, can destroy metastatic melanoma cells." (at right: Professor Elble at work in the lab)
It adds, "Elble, who also is a member of Simmons Cancer Institute at SIU, has been doing cancer research for 17 years and has been awarded a total of eight national grants. His research focuses on the suppression of tumors by the CLCA family of calcium-activated chloride channel regulators."
Dr. Elble joined the SIU faculty in 2005. He majored in zoology (biological sciences) at DePauw and went on to earn his doctoral degree at Indiana University.
You'll find additional information here.
Back