Indiana Court of Appeals to Hold Public Session at Inn on October 26
October 13, 2010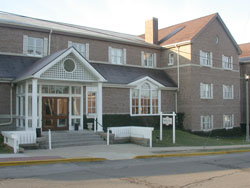 October 13, 2010, Greencastle, Ind. — Members of the DePauw University and Putnam County communities are invited to attend a session of the Indiana Court of Appeals on Tuesday, October 26, at The Inn at DePauw. A three-judge Court of Appeals panel will hear oral arguments beginning at 2:30 p.m. in the Inn's social space. The presentations are open to the public. Normal courtroom rules of decorum will apply.
The department of political science at DePauw University is hosting the event. This marks the sixth time in the last seven years that the Court of Appeals has heard oral arguments on campus.
A summary of the case states, "Elizabeth Littlefield was arrested when police responded to a domestic dispute between Littlefield and her husband. She was charged with and convicted of disorderly conduct for making unreasonable noise and continuing to do so after being asked to stop during the investigation. Littlefield contends on appeal that her arrest was inappropriate because the arresting officer did not act in accordance with police department policies for handling encounters with ... mentally ill (individuals). She further contends the comments leading to her conviction were political speech protected by Article 1, section 9 of the Indiana Constitution."
At the conclusion of the oral arguments, the judges plan to answer questions from the audience, although they must refrain from discussing the Littlefield v. State case.
For more information, visit the Indiana Court of Appeals online.
Back