Once "Essential Role" of PBS Now Diminished, Prof. Jeff McCall '76 Tells LA Times
October 9, 2010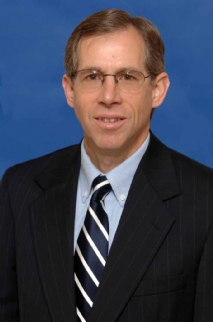 October 9, 2010, Greencastle, Ind. — A Los Angeles Times story today detailing the decision by KCET-TV to break its affiliation with PBS and become an independent station includes analysis from a DePauw University professor. KCET is breaking ties with the public television network because of a dispute over fees -- last year, writes Scott Collins, the L.A. station's PBS "dues totaled nearly $7 million, or almost one-fifth of the station's $37-million net operating revenue. Station officials say that amount is far too high. PBS, fearing that a reduction in the sum could lead to demands for similar discounts from other member stations, refused to budge."
The article suggests a move to independent status may cause KCET to lose viewers. Collins reports, "A pullout isn't good news for PBS, either, as it signals 'to other PBS members that affiliation isn't that important anymore,' according
to Jeffrey McCall, a media expert at DePauw University. It also increases doubts about the long-term future of public broadcasting."
"PBS certainly does not play the essential role it once did in the nation's media landscape," Dr. McCall tells the Times. "For years, PBS provided things that couldn't be had from the traditional networks," including
public affairs and educational programs. Now, with cable outlets, not to mention the Internet, the public doesn't rely on PBS for such fare."
The piece has been picked up by a number of other media outlets across America. Access the complete text at the website of North Carolina's Charlotte Observer.
A 1976 graduate of DePauw, Jeffrey M. McCall, professor of communication, is the author of Viewer Discretion Advised: Taking Control of Mass Media Influences and has been cited in articles published by more than 100 newspapers. On October 1, he was quoted in a Christian Science Monitor story on a new CNN program featuring former New York Governor Eliot Spitzer. The day before, the professor's op-ed was published in the Atlanta Journal-Constitution.
Back