DC Tribute Dinner Honors Veteran Statesman Lee Hamilton '52
October 6, 2010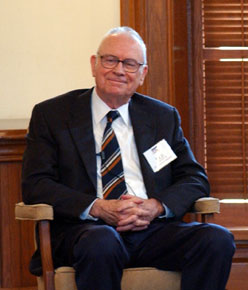 October 6, 2010, Greencastle, Ind. — "This is one of the finest men in my lifetime to come near the halls of the United States Congress," Republican Jim Leach says of his former colleague in the U.S. House of Representatives, Democrat Lee Hamilton, a 1952 graduate of DePauw University. At a tribute dinner for Hamilton last night in Washington, D.C., Leach added, "Of all the members of the Democratic Party that I served with, Lee stood for common sense, realism with a dose of decency."
Hamilton and his wife and DePauw classmate, Nancy (Nelson) Hamilton '52, are preparing to move back to Indiana from the nation's capitol, where he's been since he was first elected to Congress in 1964. Since retiring from the House in 1999, Lee Hamilton has been president of the Woodrow Wilson Center for International Scholars in Washington. In Indiana, he'll continue to direct the Center on Congress at Indiana University in Bloomington. (at right: Iraq Study Group co-chairs Hamilton and James A. Baker III with President George W. Bush)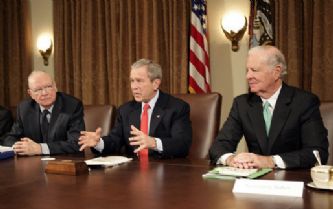 "More than 400 friends and admirers attended the dinner, held in the atrium between the National Portrait Gallery and the Smithsonian American Art Museum," writes Maureen Groppe. "The event honored Hamilton while also raising $1.2 million for the center. Guests included current and former members of Congress, former Cabinet secretaries, and more than a dozen ambassadors."
Sam Donaldson of ABC News was one of the attendees. He notes, "Lee is not somebody who's going to retire, sit down, read a book, sleep half the day and then get up and say 'What's for dinner?' He's a doer and he always will be."
As a member of Congress, Hamilton chaired the House Foreign Affairs Committee, the Intelligence Committee, the Joint Economic Committee and the led the inquiry into Iran-Contra scandal. Since leaving office, he's co-chaired the 9/11 Commission
and the Iraq Study Group, to name only a few panels he's been appointed to.
"I thought I was coming here for at best 10 years," Hamilton said at the D.C. event. "I've stayed almost 50, so I missed the mark a little."
Read more here.
Lee Hamilton was featured on NPR's Morning Edition on September 27. He was also profiled in the September 16 Washington Post and the August 17 USA Today. Access a recent op-ed by the veteran statesman via this story.
Back