Indy Star Column Notes Prof. Greg Schwipps '95 & Brad Stevens '99
October 17, 2010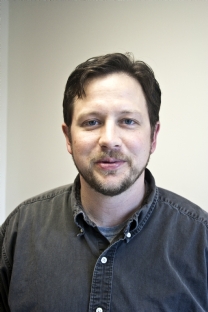 October 17, 2010, Greencastle, Ind. — Winners of 2010 Eugene and Marilyn Glick Indiana Authors Awards include "Greg Schwipps, who was raised on a working farm near Milan, in southeastern Indiana, and serves as an associate professor at DePauw University," notes today's Indianapolis Star. Schwipps "earned the $5,000 Emerging Author's prize," writes Cathy Kightlinger. "His first novel -- which he was evaluated on for the award -- is What This River Keeps, published by Ghost Road Press." (photo at left: Prof. Schwipps; below right: Stevens)
Kightlinger's "Talk of Our Town" column also points out, "Butler head basketball coach Brad Stevens might not (yet) have an NCAA title to his name, but his pretty peepers earned him honors in the 2010 Prevent Blindness Indiana's Most Beautiful Eyes competition. The contest, which ran from Sept. 1 to Sept. 30, allowed the public to vote for their favorite pair of eyes by donating $1 per online vote. The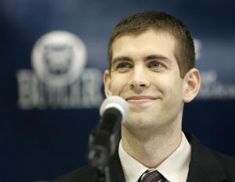 fundraiser brought in about $15,000 and drew more than 7,000 votes from 30 cities throughout Indiana and even a few from Texas, California, Hawaii and the United Kingdom."
A 1999 graduate of DePauw, "Stevens beat local notables and television personalities to win the contest's celebrity category," reports Kightlinger.
Access the column at IndyStar.com.
Schwipps, Schwipps, Richard W. Peck Professor of Creative Writing and associate professor of English at DePauw and 1995 graduate of the University, received the award last weekend.
Earlier this month, Brad Stevens was named one of "Indy's Best and Brightest" for 2010 by Junior Achievement of Central Indiana.
Back