Monon Bell Classic a "Can't Miss" Rivalry Game, Declares Newspaper
October 17, 2010
Also: Pre-Order Your 2010 Monon Bell Classic DVD
October 17, 2010, Greencastle, Ind. — An article headlined, "Gridiron grudge match: Annual Hoosier rivalry games you don't want to miss," published in the Tribune and Evening News of Jeffersonville, Indiana, offers a preview of the 117th meeting between DePauw University and Wabash College, set for November 13 in Crawfordsville.
"The two schools, located 28 miles apart, first met on the gridiron in 1890, 'making the series the oldest small college football rivalry west of the Alleghenies amongst schools that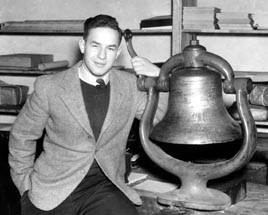 have met at least 100 times,' according to DePauw's website," Michael Reschke writes. "The two teams have played each other 116 times with Wabash leading the series 54-53-9. The Monon Bell was presented by Russell Alexander, the DePauw publicity director, as the official DePauw-Wabash trophy for football in 1932. The 300-pound locomotive bell was a gift from the Monon Railroad (now L & N), which the two schools are located along." (photo: Joe Barr, a 1939 DePauw graduate and former Tiger football player who went on to become U.S. Treasury Secretary, poses with the rivalry's prize as a student)

The text continues, "According to DePauw's website the bell has been stolen from its temporary owners at least eight times. In 1965 a Wabash student went to DePauw posing as a Mexican dignitary to find out where it was kept, returning later to steal it. To prevent similar thefts, DePauw students stole the bell from their own school and buried it for 11 months in the north end zone of Blackstock Stadium. The ground froze the week of the next rivalry game and the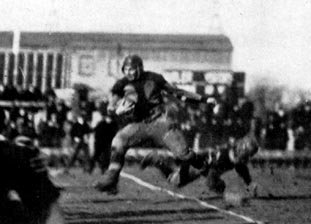 students were barely able to get it out in time for Wabash to take it back to Crawfordsville after their victory." (at left: image from 1922 DePauw-Wabash game)

Read more by clicking here.
The Monon Bell was voted Indiana's best college sports rivalry by fans of ESPN, and is noted in the DVD collection, ESPNU Honor Roll: The Best of College Football, as one of the nation's best annual clashes. This year's contest will again be nationally televised by HDNet with football legend Paul Maguire providing color commentary. Past games have been televised on ESPN2 and ABC, and the Monon Bell was featured on CBS' Sunday Morning and has twice been spotlighted in Sports Illustrated. The annual DePauw-Wabash clash is also detailed in Rites of Autumn: The Story of College Football, a book by Richard Whittingham.
Last week marked the 25th anniversary of the creation of The Ballad of the Monon Bell by DePauw alumni, a song that has become a fan favorite since it was recorded in Nashville, Tennessee.

[Download Video: "Ballad of the Monon Bell - 2007 Version" - 10,419kb]

[Download Audio: "Ballad of the Monon Bell - Stereo" - 2514kb]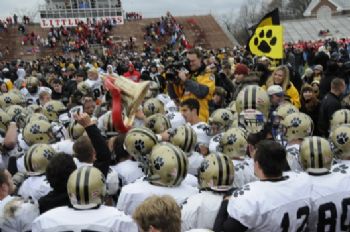 DePauw's allotment of tickets for this year's game will go on sale next Monday, October 25. Details are in this article.
Pre-orders are now being accepted for the 2010 Monon Bell DVD. Learn more here. DVDs of 2001-09 Monon Bell Classics are still available in limited quantities. An online order form can be accessed by clicking here.
A complete roster of "Monon Memories" -- video highlights of past classics -- can be found here.
Access DePauw's Monon Bell Web page here.
Back