Poem by Prof. Joe Heithaus Provides 'Food for Thought'
October 20, 2010
October 20, 2010, Greencastle, Ind. — "You can't read it as you drive by," says Joe Heithaus, University Professor and professor of English at DePauw University, of his new poem, What Grows Here. The poem is painted on a barn west of Greencastle. "It's an invitation to slow down and read it all," Heithaus tells the Banner-Graphic.
Today's newspaper carries a story on the unique art, which is one of a number of works around the state created for the Food for Thought festival, which takes place next month in Indianapolis.
Josh Garvey writes, "Heithaus first had the idea for the poem after a community discussion at the Putnam County Museum, where Joyce Brinkman presented her idea for poets from around the state to create poetry that would be on the side of barns. Brinkman said she wanted to assemble a variety of poetic representations of food and food production from around the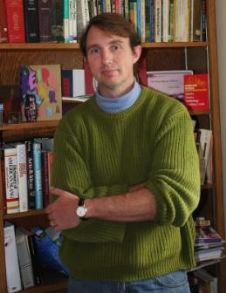 state. She wanted these barn poems to both represent Indiana as a whole and the individual areas in which the barn is located. 'I wanted to put together a poetic patchwork quilt of the state,' Brinkman said. Heithaus drew inspiration for his poem from a variety of sources. He helped a local farmer with a harvest, riding along on a combine."
You'll find the complete story at the Banner-Graphic's website.
In February, Joe Heithaus was featured in a segment of Across Indiana, which is produced by Indianapolis PBS affiliate WFYI-TV and airs statewide. He is the author of a series of poems, Poison Sonnets, which won the 2007 Discovery/The Nation Prize. His poems have appeared in Poetry, the North American Review and the Southern Review. Professor Heithaus is one of five "Airpoets," whose poems have been integrated into stained-glass window murals in the new Indianapolis International Airport and are featured in a collection, Rivers, Rails and Runways.
Back