Robin Gibson '03 Compares State of Two Cities in Indianapolis Star
October 21, 2010
October 21, 2010, Greencastle, Ind. — "Although I attended DePauw University in Greencastle, I put Indiana in my rearview mirror and headed back to my home state for what I thought was for good," writes Robin Gibson, a 2003 DePauw graduate, in today's Indianapolis Star. In a letter to the editor, she notes, "For the past five years I have worked, lived and attended law school in the Detroit area; however, when faced with the decision of where to build a career and future, the right choice for me is to return to Indiana."
According to Gibson, who will graduate from Thomas M. Cooley Law School of Auburn Hills, Michigan, in January, "it has become clear that a financially secure future in my home state is not an option today. I must therefore look elsewhere in the Midwest to begin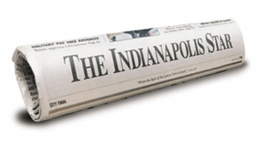 my post-graduate life. I am choosing Indiana because of the fiscally responsible choices leaders in Indiana have made for the state and its communities over the last several years."
She declares, "I was pleasantly surprised during a recent visit to find that, less than 300 miles away from the blight of Detroit, Indianapolis has managed to not only maintain the integrity of the city but also to encourage growth and development during these times. I was shocked to see cranes actually building structures as opposed to tearing them down."
The entire letter can be read at IndyStar.com.
Back