Lee Hamilton '52 Shares '45 Years of Washington Wisdom' with LA Times
October 14, 2010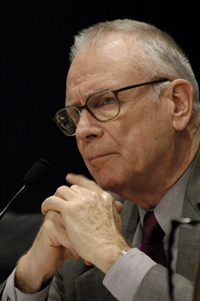 October 14, 2010, Greencastle, Ind. — "In the polarized Washington of 2010, there aren't many politicians who win deep respect from both sides of the political divide, but Hamilton has always been able to do that," notes the Los Angeles Times of Lee Hamilton. "Now, at 79, he's heading back to Indiana."
The nation's second-largest metropolitan newspaper in terms of circulation is the latest to feature Hamilton, a 1952 graduate of DePauw University. The veteran statesman is preparing to move from Washington -- where he's lived since being elected to the U.S. House of Representatives in 1964 -- to Bloomington, Indiana. Since retiring from the House in 1999, Lee Hamilton has been president of the Woodrow Wilson Center for International Scholars.
The Times' Doyle McManus writes, "I wanted to hear whether a wise man who has been a key player in Washington through several cycles of gridlock and cooperation might see any hope on the horizon. Hamilton's message: The American political system
faces a daunting test in building a national consensus for belt-tightening in both domestic and foreign policy. Congress needs to take actions that many voters will find unpalatable: raising taxes, cutting spending, downsizing our goals. To make it work, leaders of both parties need to become 'pragmatic realists' and rediscover the lost art of bipartisan negotiation. And that's the rub." (at right: Hamilton talks with DePauw students in historic East College)
Of President Obama, Hamilton -- a Democrat who served southern Indiana in Congress and co-chaired the 9/11 Commission and Iraq Study Group -- states, "He's had remarkable accomplishments from my point of view, but it is quite clear that the American people don't think that's enough. They want a president who's more than a legislative leader. They want someone who gives them hope ... Obama has not yet conveyed that sense of compassion effectively. He has lost the connection -- which is a nebulous thing -- with the American people."
Looking toward the challenges the nation faces, Hamilton states, "Every politician gets up and says, 'I'm an optimist.' That's kind of required. You can't get up and say, 'I'm a pessimist.' We can be pessimistic or optimistic; it doesn't matter. Either way, our duty is the same. Our duty is to make it work."
You'll find the complete column, "45 years of Washington wisdom," at the newspaper's website.
Lee Hamilton was honored at an October 5 tribute dinner in Washington, D.C. He was featured on NPR's Morning Edition on September 27, and profiled in the September 16 Washington Post and the August 17 USA Today.
In a 2007 interview, Hamilton stated, "I had an undergraduate experience at DePauw University that certainly opened my eyes to a lot of possibilities." Learn more in this story.
Back