Newspaper Features ESPN Founder Bill Rasmussen '54
October 22, 2010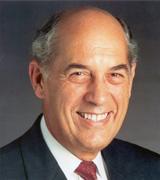 October 22, 2010, Greencastle, Ind. — "You know, we only had 12 (TV) channels then," Bill Rasmussen recalls of the 1978 discussions that led to the creation of ESPN, which signed on in September 1979. A 1954 graduate of DePauw University, Rasmussen was in Fort Wayne, Indiana to speak this week and is featured in that city's Journal Gazette.
Ben Smith writes, "Twelve channels?! What did the heck did people do for fun? Well, if you were Bill Rasmussen, you invented ESPN."
At early meetings, Rasmussen says he was told, "You guys are crazy." Smith notes, "And now it's 31 years later, and Rasmussen looks out on the classes he regularly lectures these days, and he sees an entire generation that's never known a world without ESPN. Heck, he bumps into people in their 30s who've never known that."
"Those are the ones that surprise me," Rasmussen tells the

newspaper. "I realize that, even if you're 35 years old, ESPN's been around forever."
Read the full story at the Journal Gazette's website.
Called "the George Washington of ESPN" by anchor Chris Berman, Bill Rasmussen founded ESPN with his son, Scott, a 1986 DePauw graduate who is founder and president of Rasmussen Reports. The Washington Post recently called the younger Rasmussen "a driving force in American politics."
Back