NY Times Reviews New Book by Pollster Scott Rasmussen '86
October 24, 2010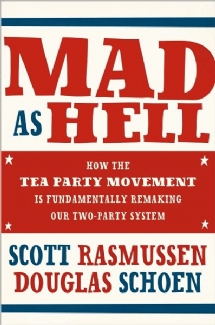 October 24, 2010, Greencastle, Ind. — "More than half of Americans (55 per cent) say they have grown more conservative in the past year, according to the pollsters Scott Rasmussen and Doug Schoen in their new book, Mad as Hell: How the Tea Party Movement is Fundamentally Remaking Our Two-Party System (Harper/HarperCollins, $27.99)," notes a New York Times review. Christopher Caldwell writes, "America's self-described conservatives, however, have a problem: They lack a party. While the Tea Party may look like a stalking horse for Republicans, the two have been a bad fit. Insurgents have cut a swath through Republicans' well-laid election plans. They helped oust Florida's party chairman. They toppled the favored candidates of the party establishment in Alaska, Colorado, Delaware, Florida, Kentucky, New York, South Carolina, Utah and elsewhere."
According to Caldwell, who examines three books in today's piece, "It is vital to understand where this steamroller is coming from. According to Gallup, support for Obama has fallen only slightly among Democrats, from 90 percent to 81 percent, and only slightly among Republicans, from 20 percent to 12
percent. It is independents who have abandoned him: 56 percent approved of him when he came into office, versus 38 percent now. The reason the country is getting more conservative is not that conservatives are getting louder. It is that people in the dead center of the electorate are turning into conservatives at an astonishing rate."
Access the full article at the Times' website.
Scott Rasmussen, a 1986 graduate of DePauw University, is founder and president of Rasmussen Reports and co-founded ESPN with his father, Bill Rasmussen '54. Learn more in this previous story.
Back