"Great Debate" Over Role of Government Won't End with Election, Says Lee Hamilton '52
October 26, 2010
October 26, 2010, Greencastle, Ind. — "The rise of the Tea Party is a response in part to health-care reform and other policies undertaken by the Obama administration and Democrats in Congress," writes veteran statesman Lee H. Hamilton in a newspaper op-ed. "But it is also the latest manifestation of the great debate between Alexander Hamilton, the champion of centralized government power, and Thomas Jefferson and James Madison, advocates of a more limited view of federal power," adds Hamilton, a 1952 graduate of DePauw University.
The Democrat who served 34 years in the U.S. House of Representatives states, "Their dispute over the proper role of government in dealing with our challenges has been, in many ways, the enduring and central question of our democracy -- a constant in our political discourse, sometimes holding the limelight, sometimes receding into the background, but always present. The debate is often clamorous, robust, and passionately argued, but it will not be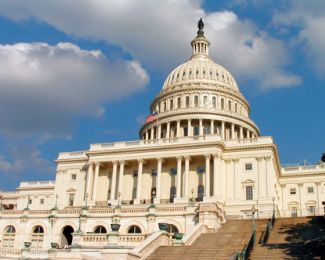 finally resolved in this election or, for that matter, in any other."
According to Hamilton, "You can get a sense of why this might be by considering the public response to disaster -- the Gulf oil spill, a salmonella outbreak, Hurricane Katrina, the Great Recession. Ordinarily leery of government overreach, Americans don't just turn to government at times of crisis, they want it to respond quickly, efficiently and effectively. When it can't, when it turns out that the regulatory apparatus or emergency response capabilities were allowed to atrophy because of neglect, under-funding, or political games-playing, they get disillusioned, even angry, over government's incapacity to perform. In a sense, then, the debate over the proper size, reach and purview of government is ingrained in the electorate. When voters want action to solve a wide range of economic and social problems, they often turn to government, even while harboring doubts about its ability to address the problem and resenting the taxes it relies upon to do so. In the 2008 elections, Americans wanted government to do more, not less. Two years later, presented with a more activist government, they believe it's doing too much."
Now the director of the Center on Congress at Indiana University, Hamilton co-chaired the 9/11 Commission and Iraq Study Group. He opines, "In many cases, arguments about government's size and reach are really arguments about its effectiveness -- about eliminating waste, encouraging efficiency, adopting modern management and information systems, getting accountability, and using better metrics in evaluating government's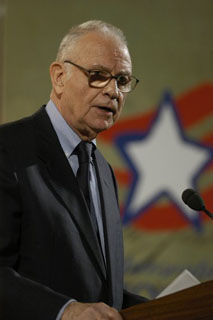 performance. At the end of the day, then, it isn't a choice simply between big government and small government. There are a range of choices between government doing it all and government doing nothing. Most Americans are not rigid ideologues insisting uniformly on more government or less government. Rather, they are pragmatic. They want a smarter, more effective government. And as long as they keep expecting it to respond to their needs and beliefs, the debate over how it can best do so will -- and should -- continue.
Read the complete essay at the website of Minnesota's Alexandria Echo Press.
Lee Hamilton is preparing to move from Washington -- where he has been president of the Woodrow Wilson Center for International Scholars since retiring from the House in 1999 -- to Bloomington, Indiana. In recent weeks, major newspaper's have offered tributes to Hamilton, with the Los Angeles Times noting, "In the polarized Washington of 2010, there aren't many politicians who win deep respect from both sides of the political divide, but Hamilton has always been able to do that." David Ignatius of the Washington Post calls the former lawmaker "one of the wisest and most experienced people in Washington," while USA Today's Susan Page wrote, "He is one of the last of the Washington 'wise men,' figures who ruled Congress, led Cabinet agencies and shaped foreign policy during a less partisan era."
Hamilton, author of Strengthening Congress, and How Congress Works and Why You Should Care, was honored at an October 5 tribute dinner in Washington, D.C.
Back