Tigers Stun Division I Evansville, 66-62, in Men's Basketball Exhibition Game
October 31, 2010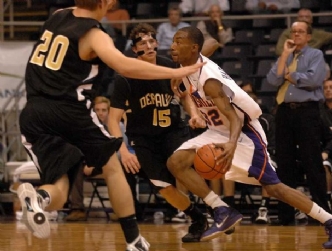 October 31, 2010, Greencastle, Ind. — "For a University of Evansville men's basketball team looking to overcome low expectations and prove it can compete at a higher level this season, this wasn't the kind of start the Aces needed," reports the Evansville Courier & Press. "Marty Simmons and his players were overpowered by NCAA Division III opponent DePauw, losing 66-62 in a preseason exhibition game at Roberts Stadium on Saturday night." (photo: Daniel R. Patmore/Courier & Press -- DePauw's Sean Haseley (20) and Ryan Russell (15) defend Evansville's Kenny Harris in the first half of last night's game.)
Simmons, whose team plays in the Missouri Valley Conference, tells the newspaper, "Obviously, we've got a long way to go. Give DePauw credit. They outcompeted us, they out-executed us, they outhustled us and outcoached us."
"Boosted by 7-for-11 accuracy from behind the 3-point line in the first half, DePauw led 35-32 at halftime, taking its fifth lead (26-23) in the final seven minutes on Tommy Weakley's second trey of the period," reports Randy Beard. "Six of DePauw's last seven baskets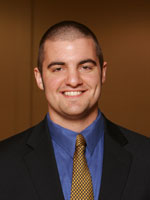 in the first half were from behind the arc." Ryan Sever (pictured at right) led the Tigers with 14 points and 9 rebounds.
DePauw outrebounded the Aces 36-32, which Tiger coach Bill Fenlon called key in a matchup with a D-I team. "What you hope coming into a game like this is you might be able to stay close on the boards to give yourself a chance. To outrebound them, that is probably the most telling thing in the game."
Read the full summary at the newspaper's website or at the official home of the DePauw men's basketball program. WFIE-TV has game highlights posted along with a story.
DePauw opens the regular season at the Wabash Tipoff Tournament on November 19 where they'll face Franklin at 6 p.m.
Back