Sue Ansel '82 is Magazine's 'Executive of the Year'
November 2, 2010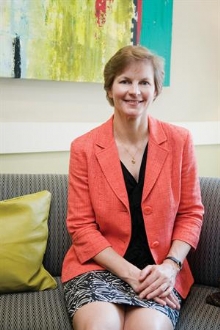 November 2, 2010, Greencastle, Ind. — Susan M. Ansel, executive vice president and chief operating officer of Gables Residential and 1982 graduate of DePauw University, is Multifamily Executive magazine's "2010 Executive of the Year." Ansel is credited with leading her Atlanta-based company "through the worst recession of its lifetime" and her commitment to charitable ventures, including "Woodall Rodgers Park Foundation, a Dallas land bank to provide low-income housing coupled with a local program to bring homes up to code for the elderly who can't maintain them."
"In 2009, when the industry was battening down the hatches, the calm, collected Ansel was exactly the type of person that companies under fire needed," writes Les Shaver. "When the economy collapsed in 2008, Gables had 15 new developments ready for lease-up in a number of hard-hit markets. That platform quickly ground to a halt, taking with it millions in revenue. With Gables'
institutional owners -- a closed-end fund managed by a joint venture between ING Clarion and Lehman Bros. -- watching every penny, Ansel, Gables' executive vice president and COO, literally had to do more with less. Yet, despite this, she outperformed some of her more well-capitalized competitors in 2009, producing an NOI of -3.6 percent in some very hard-hit markets. Today, the company is seeing its numbers grow," notes the magazine.
"Sue is practical, has lots of common sense, and approaches things in a disciplined way," Greg Mutz, CEO of AMLI Residential and 1967 graduate of DePauw, tells Multifamily Executive. "She's a really good operator. She has a great feel for what works on site and how to drive both resident satisfaction as well as the bottom line. Sue's a people person, and comes up with solutions and ideas that work."
Shaver reports, "Like many multifamily executives, Ansel didn't expect to go into real estate as a career. She just sort of fell into it. After graduating
from DePauw University, a small liberal arts school in Indiana in 1982 (when the job market wasn't a whole lot better than it is right now), she took a position as a financial analyst at Daseke Co. in Connecticut, which specialized in commercial real estate tax shelter investments. (The firm's remnants are now Dallas-based Milestone Management.) In 1985, as the industry was reeling from changes in the tax law, Ansel was sent to Dallas to help fix the firm's struggling operating division. After a couple years in Dallas, she took an opportunity with Trammell Crow Residential (TCR) -- she was hired to implement on-site computer operations. At the time, the company was doing everything by paper. Soon after, in the early '90s, TCR spun Gables into a public company and Ansel, a development director at the time, was well on her way to touching every area of the company's operations, from information technology and financial services to development and asset management."
"The sky is the limit for Sue," says Gables' CEO David Fitch. Adds Steve Lamberti, president and COO of Milestone Management, "To see her become CEO of a public or private
firm wouldn't surprise me at all. I think her skills and her extensive background in multiple vertical divisions of large companies have certainly prepared her. She has the mental acuity to do that."
Multifamily Executive is the leading business magazine in the multi-family housing market.
Access the lengthy profile at the magazine's website.
Sue Ansel presented the address for her 25th reunion class at 2007's Alumni Reunion Convocation. Learn more in this story.
Back