Music Educators to Gather at DePauw for November 6 Conference
October 28, 2010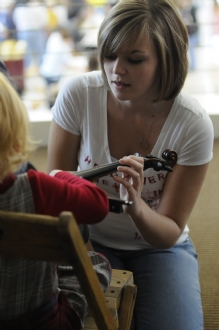 October 28, 2010, Greencastle, Ind. — Sixteen professional music educators teaching grades K - 12 throughout the state of Indiana will come to the campus of DePauw University on Saturday, November 6, for a one-day conference, "Music Education in Public Schools Today." The event is sponsored by DePauw's chapter of the Collegiate Music Educators National Conference (CMENC).

Topics such as Building a Music Program, Issues with Small and Inner City Schools, and Dealing with Financial Challenges are among those that will be discussed at the event.
"Twenty-six universities offering music education programs have been invited to attend," says Erika Matson, DePauw CMENC president. "Our chapter decided to host this conference to help all undergraduate teachers in training -- like ourselves -- be better prepared for the day we begin our professional teaching in music."



The event is open to all DePauw students, faculty, and community members of Putnam County; sessions are free and participation is encouraged for all meetings throughout the day. Sessions will be held in the Green Center for the Performing Arts, with registration at 9 a.m. and an opening convocation a half-hour later.

For more information, contact Professor Craig Paré at cpare@depauw.edu.
Back