Brad Stevens '99 and Former DePauw Assistant Face Off in Exhibition Game
November 5, 2010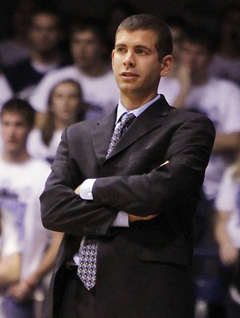 November 5, 2010, Greencastle, Ind. — An Indianapolis Star report on last night's men's basketball exhibition between Butler University, coached by 1999 DePauw University graduate Brad Stevens, and Division III Hanover College, notes, "Hanover coach Jon Miller was an assistant coach at DePauw for two of Stevens' two seasons there. He knew what to expect from the Bulldogs, and he saw it. Energy. Athleticism. Someone always willing to do the extra thing."
"I'm not going to say anything about Butler that we don't already know," Miller, who was a DePauw assistant from 1997 to 1999, tells the newspaper. Butler won last night's game, 80-41.
Read the full story at IndyStar.com.
Brad Stevens led the Bulldogs to the national championship game last season. He was an economics major and Management Fellow at DePauw, where he played basketball for four years.
Stevens was recently named one of "Indy's Best and Brightest" for 2010. In June, a half-hour program on FOX Sports Midwest focused on Stevens' success at Butler and included comments from Bill Fenlon, his collegiate coach at DePauw. Stevens and Fenlon were also featured in this recent Sports Illustrated article.
On April 13, 2010, Stevens returned to his alma mater to deliver the Robert C. McDermond Lecture. (above right: Stevens visits with people in DePauw's Bowman Park)
Back