Online Sale of Monon Bell Tickets Ends; Seats Still Remain for Big Game
November 5, 2010
Pre-Order Your 2010 Monon Bell Classic DVD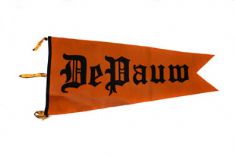 November 5, 2010, Greencastle, Ind. — Online sales of DePauw's allotment of Monon Bell Classic tickets are closing this afternoon, with approximately 300 tickets remaining. The game -- the 117th installment in one of college football's oldest rivalries, and probably the closest -- will be played next Saturday, November 13, at Wabash College in Crawfordsville.
Seats on the DePauw side of the stadium remain available for sale by phone, but because delivery via U.S. Mail cannot be ensured before game time, fans may purchase tickets by phone during regular business hours by calling (765) 658-4199 or (765) 658-4270. They have three options for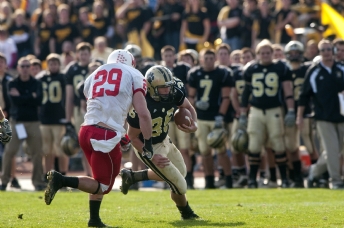 delivery/pick-up:
Tickets can be sent via overnight delivery at the purchaser's expense.
Tickets may be picked up at the Union Building, room 210, between 8:30 a.m. and 4:30 p.m. Monday-through-Friday.
Tickets may be picked up at the Monon Bell Brunch, which is taking place on game day (Saturday, November 13) at the Crawfordsville Country Club, 3272 West Country Club Road, Crawfordsville, IN 47933. Tickets will be available for pick-up there (there will be no sales) from 10 a.m. to 11 a.m.; a photo ID is required. Tickets not picked up by 11 a.m. will be forfeited. The Monon Bell Brunch is sold out.
All tickets purchased online have been mailed.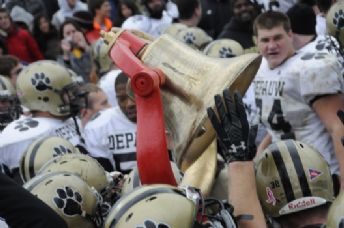 Kickoff for the 117th meeting on the football field between DePauw University and Wabash College is set for 1:07 p.m. next Saturday. The game will again be televised nationally by HDNet, with commentary by Kenny Rice and Paul Maguire. Sideline reporters will be Brad Wochomurka '04 for DePauw and Matt Hudson for Wabash. Alumni, parents and friends of the two colleges will gather in cities across the nation for telecast parties on game day.

[Download Video: "Ballad of the Monon Bell - 2007 Version" - 10,419kb]

[Download Audio: "Ballad of the Monon Bell - Stereo" - 2514kb]
Wabas

h leads the all-time series 54-53-9, while DePauw leads in games played for the Monon Bell (introduced as the winner's prize in 1932) by a 37-35-6 count.
Pre-orders are now being accepted for the 2010 Monon Bell DVD. Learn more here. DVDs of 2001-09 Monon Bell Classics are still available in limited quantities. An online order form can be accessed by clicking here.
A complete roster of "Monon Memories" -- video highlights of past classics -- can be found here.
Access DePauw's Monon Bell Web page here.
Back