Art of "Bing" Davis '59 Featured in Two Dayton, OH Exhibits
November 6, 2010
November 6, 2010, Greencastle, Ind. — "When I walked into the exhibit, I was just overwhelmed," says artist Willis "Bing" Davis, a 1959 graduate of DePauw University, of an exhibition of his work that opens tomorrow. The Dayton Daily News' Meredith Moss writes, "There are many reasons to celebrate the new 'Bing' exhibit at the Dayton Art Institute. For starters, it's wonderful to see a local, living artist who has been an important contributor to the Miami Valley arts community for many decades predominantly featured in a major exhibit at the museum."
Davis' oil pastels will remain on display at the Dayton Art Institute through January 30, 2011. Another exhibit of Davis' photographs, masks and ceramics opens December 7 at the University of Dayton.
Moss writes, "Davis says the oil pastels featured at the DAI are all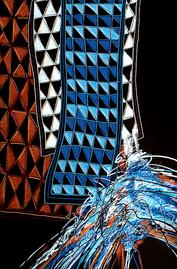 about honoring and recognizing that we're not in this world alone, and that we're part of a long standing history -- both culturally and artistically ... Davis has taught and mentored thousands of students over the years at Colonel White High School, Dayton's Living Arts Center, and universities including DePauw, Miami and Central State. He says one of the problems in the contemporary African-American community is that 'we've lost the ability to give proper respect to elders and ancestors.'" (at right: Davis' painting, Ancestral Spirit Dance #382)
"It's hard for a person to think of the future without an accurate knowledge of your past," he tells the newspaper. "Looking at traditional societies has given me an understanding about how to appreciate the present. I view each one of those Spirit Dancers as a visual prayer of thanks for those on whose shoulders I stand."
You'll find the complete story at the Daily News' website.
Learn more about Bing Davis in this previous article.
Back