DePauw Football Reaches "New Heights": Indianapolis Star
November 6, 2010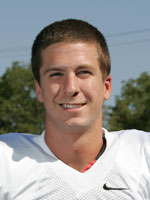 November 6, 2010, Greencastle, Ind. — "DePauw wide receiver Alex Koors didn't let the fact the Tigers lost one of the best quarterbacks in NCAA Division III after last season slow him down. Neither did his teammates," writes Michael Pointer in today's Indianapolis Star. "They are 8-0 for the first time in school history and have clinched at least a share of the Southern Collegiate Athletic Conference title and a Division III tournament berth heading into today's game against Austin at Blackstock Stadium."
The article continues, "Koors, a Cathedral High School graduate, has 65 receptions (11th in the nation) for 939 yards and 14 touchdowns (tied for 14th) this season. Koors, whose receiving yardage per game (117.4) is 10th nationally, is DePauw's career leader in receptions (234) and receiving yards (3,534)." Pointer reports, "Koors is now catching passes from first-year starter Michael Engle (Terre Haute South), who stepped in for graduated Spud Dick, a finalist last season for the Gagliardi Trophy,
emblematic of Division III's top player." (photo, l-r, Engle and Koors)
"I don't think there was a single person on our team that didn't think Michael Engle couldn't start where Spud left off," Koors tells the Star. "He's got a great offensive mind and is one of the smartest guys I've ever been around."
The newwspaper points out, "Engle has completed 215-of-309 passes (69.6 percent) for 2,413 yards with 24 touchdowns and just nine interceptions."
Of Koors, DePauw head coach Robby Long says, "To be able to follow up a great junior year with what he has done this year, I'm just very proud of him. The kid doesn't say much. He comes to work every day and he's a great teammate. But on Saturdays, he's one of best competitors I've ever been around. He wants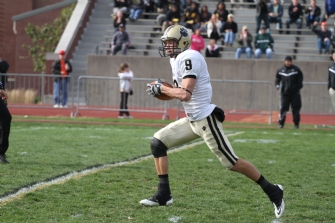 the football thrown to him and he's going to find a way to get it."
"After today, DePauw plays at Wabash next Saturday in the Monon Bell Game before starting play in the Division III tournament Nov. 20," writes Pointer, adding that the Tigers are ranked #21 in the American Football Coaches Association's NCAA Division III poll.
You'll find the complete text -- "Cathedral graduate Koors helps DePauw football reach new heights" -- at IndyStar.com.
Learn more about today's game, which can be heard live via WGRE (91.5 FM or via this link) by clicking here.
Read about Monon Bell ticket information and pre-order the 2010 Monon Bell Classic DVD.
Back