DePauw-Wabash Rivalry is Backdrop for Upcoming Theatre Presentation
November 9, 2010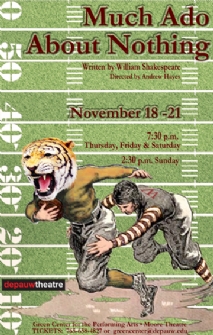 November 9, 2010, Greencastle, Ind. — It's 1928, and the DePauw Tigers have won their annual football game over their rivals at Wabash College, 20-12. So what happens once the game is over and the victors return home? Love, of course. DePauw Theatre gives Shakespeare's comedic classic Much Ado About Nothing a new twist in this second production of the 2010-11 year.

Much Ado About Nothing opens on Thursday, November 18, at 7:30 p.m. in Moore Theatre of the Judson and Joyce Green Center for Performing Arts. Performances continue through the weekend, at 7:30 p.m. on Friday, November 19 and Saturday, November 20. A Sunday afternoon matinee will also be held at 2:30 p.m. on November 21.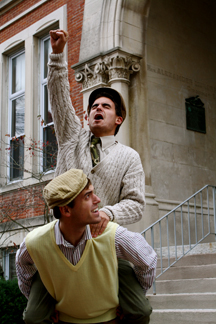 DePauw students Pedro, Claudio and Benedick join their peers in postgame revelries. There Claudio is captivated by Hero, a cheerleader and the most popular girl in school. With some help from his friends, Claudio and Hero fall in love and are engaged. Love's also in the cards for Benedick and Beatrice, two childhood friends whose witty insults quickly give way to feelings of affection.

But Pedro's brother John, a Wabash student embittered by the Little Giants' loss, has other plans for the happy couples. Looking to crash the party, he starts a rumor regarding Hero, one that ruins her reputation and makes Claudio doubt her love for him. Don John's evil scheme leads to a tragedy within the Greencastle community, one that Claudio's attempts to right results in a highly unexpected turn of events.

DePauw University serves as the creative backdrop for a story about rivalry, courtship and status. The idea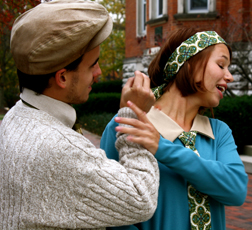 to contemporize Shakespeare within the context of the DePauw-Wabash game (one of the nation's oldest college football rivalries dating back to 1890; since 1932 the two teams have played for the Monon Bell) first came to director Andrew Hayes in a Theatre Production and Design course. In a class exercise, Hayes asked his students what present-day scenarios were relatable to events in the play; football player Luis Davila '07 suggested the infamous Wabash-DePauw competition.

"As soon as he said it, the whole class started nodding their heads like, 'yeah, there's something to that,'" Hayes said. "The celebration of a Monon victory is definitely similar to the post-battle euphoria in [Shakespeare's] original work."

Young love also presents a powerful theme in the play, one that Hayes found very appropriate for a University production. The play's characters,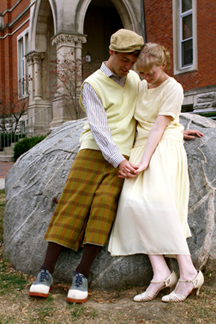 however, are largely preoccupied with anxieties about marriage -- an issue Hayes felt was dated for contemporary students. So Hayes chose the 1928 DePauw-Wabash game in which to contextualize the play. This era of early marriage, prohibition, bathtub gin, flappers, and economic prosperity between the two world wars was most fitting for the themes of the play. And, Hayes added, "The 1928 game was the first win for DePauw [after] a seven-year losing streak in the rivalry series, and [the period] tends to be a heyday for American football and college athletics."

With this new twist localizing the comedic classic to the Greencastle community, Much Ado About Nothing is sure to delight audiences as they savor the universality of Shakespeare's work. "Shakespeare is still relevant, interesting and fun. Shakespeare is more than just good for us -- the experience is beneficial, pleasurable, and enjoyed by performers as well as the audience," asserts Hayes. "It doesn't bother me that the good guys are DePauw and the bad guys are Wabash, either."

Tickets for Much Ado About Nothing are $3 for students and $6 for adults and are available for purchase at the DePauw University Green Center for the Performing Arts Center Box Office. Box office hours are Monday through Friday from 12:30 p.m. to 4:30 p.m. and one hour prior to show time. Information and reservations are available by calling (765) 658-4827 or emailing greencenter@depauw.edu.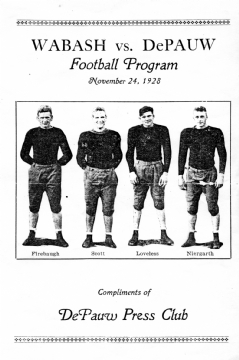 Also available for purchase are DePauw Theatre patron passes. Purchasers are entitled to five tickets for the price of four. The passes are available at both student and adult price levels. To purchase or obtain additional information, contact the Green Center box office at the contacts listed above.

Additional information on DePauw Theatre can be found here.
View a "Monon Memory" of the 1928 DePauw-Wabash football contest here:

[Download Video: "1928 Monon Memory" - 3614kb]. A complete roster of the video clips -- written, produced and narrated by 1982 DePauw graduate Ken Owen -- can be accessed by clicking here. (at left: cover of the 1928 game day program)
For comprehensive information on one of college football's greatest rivalries -- which in 1932 introduced a 300-pound locomotive bell as its prize -- visit the Monon Bell Web page.
The 117th football game between DePauw University and Wabash College will be played this Saturday, November 13, in Crawfordsville. Some tickets remain for the game with the 7-2 Little Giants, which will be seen nationally on HDNet.
Back