Spot by DePauw Students Will Air During Saturday's National Telecast of Bell Battle
November 9, 2010
Also: See the Video on YouTube; Monon Bell Ticket Information; HDNet to Air Game; Pre-Order Your 2010 Monon Bell Classic DVD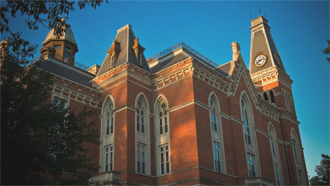 November 9, 2010, Greencastle, Ind. — Viewers across the nation who tune in for Saturday's national telecast of the 117th Monon Bell Classic on HDNet will see the work of DePauw University students. DePauw's institutional spot, which will run during the game, was created by seniors Andrew Maddocks and Duncan Wolfe. You can see the message here.
Maddocks and Wolfe are interning this year with Jonathan Coffin '06, director of strategic communications. Ken Owen '82, executive director of media relations and DePauw coordinator of the Monon Bell telecast, reached out to Coffin and his students to see if they'd have
interest in creating the University's message, which will air at least once during the game. The two seniors embraced the opportunity. (at right: Wolfe and Maddocks)
"The prompt for the spot was somewhat intimidating -- capture an institution that's so profoundly important for me, and everyone it touches, in a fleeting minute," notes Maddocks. "What, we had to consider, was universally relatable across tens of thousands of unique DePauw experiences? I think the entire team involved in this spot really tapped into something. Shots of no more than a second or two evoke the challenges, rewards, friendships and sheer fun that'll stick with me for decades."
Adds Wolfe, "I know that many schools hire outside professionals to produce this kind of project, which is why it was such an honor when they asked us to do it. For a video that would be viewed on a national stage, it was a daunting task, yet I never felt more prepared to communicate a multifaceted DePauw to a wide audience. Andrew and I hadn't done anything like this before, but I think our prior experiences enabled us to present DePauw in a meaningful and familiar way."
Music for the spot was created by members of a DePauw student band, Jack Daddy Sunrise: Connor Willett '12, Mac Metcalf '12, Zak Phillips '11, Andrew Hogan '11, Ben Stilwill '11 and Tyler Spear '13. The Presidential Ambassadors and Alec Synnestvedt '11 also contributed to the creation of the message, which was shot in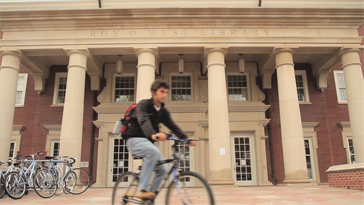 high definition video.
"I spent two decades in the TV business before returning to DePauw as an employee, and the work of Duncan and Andrew is nothing short of amazing," says Owen. "By design, Jon and I gave the guys a very broad palette to work with so this spot could truly reflect student perspectives and speak in their language. To call this 'professional' is really selling it short -- this work really makes me proud of our students and my alma mater, which allows students to do things that don't happen on many other campuses."
It's the second time a student spot has appeared in a Monon Bell telecast. For the 2008 game, Emily Riggs and Stacie Grissom created the institutional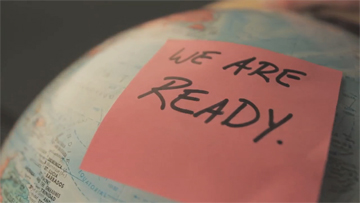 message which aired on HDNet.

[Download Video: "2008 DePauw Spot" - 2811kb]

As was the case in 2008, the spot created by Maddocks and Wolfe will be included on the commemorative DVD of the 2010 Monon Bell Classic, which is available for pre-order.
Kickoff in Crawfordsville is set for 1:07 p.m. Saturday, with the HDNet coverage beginning at 1. Some tickets remainfor the game.
For more information on today's game and the Tiger football program, click here.
Back