Acclaimed Poet Sharon Olds Visits DePauw Thursday
November 8, 2010
[UPDATE 11/10 2 p.m.: This event has been canceled due to illness and rescheduled for December 2 at 7 p.m. in Moore Theatre, Green Center for the Performing Arts.]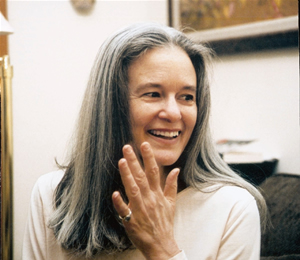 November 8, 2010, Greencastle, Ind. — Of poet Sharon Olds, the New York Times opined, "Her work has a robust sensuality, a delight in the physical that is almost Whitmanesque. She has made the minutiae of a woman's everyday life as valid a subject for poetry as the grand abstract themes that have preoccupied other poets." (photo by Catherine Mauger)
On Thursday, November 11, Olds will visit DePauw University as a guest of the James and Marilou Kelly Writers Series and the Gilbert S. Lance Lectureship. The program will take place at 7:30 p.m. in Thompson Recital Hall, which is located in DePauw's Green Center for the Performing Arts. There is no admission charge for the event, which is open to the public.

Sharon Olds' poetry has appeared in the New Yorker, Paris Review, Poetry, Atlantic Monthly, and the New York Times. Her poetry, states Michael Ondaatje, is "pure fire in the hands." With sensuality, humor, and remarkable imagery, she expresses truths about domestic and political violence, sexuality, family relationships, love,
and the body. Often compared to "confessional" poets, she has been much praised for the courage, emotional power, and extraordinary physicality of her work.

Her numerous honors include a National Endowment for the Arts grant; a Guggenheim Foundation Fellowship; the San Francisco Poetry Center Award for her first collection, Satan Says (1980); and the Lamont Poetry Selection and the National Book Critics Circle Award for The Dead and the Living (1983).
New York State Poet Laureate (1998–2000), Olds teaches graduate poetry workshops at New York University. She is a Chancellor of the Academy of American Poets and a member of the American Academy of Arts and Science. Her latest poetry collection, One Secret Thing, was published in the Fall 2008. Her next collection is tentatively entitled "Stags Leap: Poems 1997-2000."
The James and Marilou Kelly Writers Series was established in 1998 with gifts from Marilou Morrell Kelly, a 1955 graduate of DePauw. Learn more about the Kelly Writers Series by clicking here.
Back