Pre-Thanksgiving Orchestra Concert, 'Gathering Together,' Set for November 22
November 15, 2010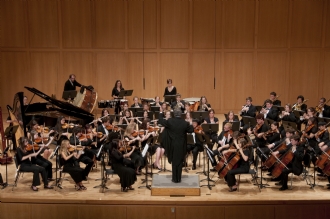 November 15, 2010, Greencastle, Ind. — The DePauw University Orchestra will present a musical program aptly entitled "Gathering Together" on Monday, November 22, just before the Thanksgiving holiday. The concert will begin at 7:30 p.m. in the Green Center for the Performing Arts, Kresge Auditorium. The uncommon concert hour -- which is free and open to all -- will provide a study break for students, and allow for a bit of retrospection about events surrounding this time of year.

"The rhythm of the academic year is so ingrained in our lives regardless of our occupation, and time and again we observe students moving away from habits of rigorous study to focusing on time to be spent with family and friends," says Orcenith Smith, conductor of the Orchestra. "This behavior begins
at the Thanksgiving break and continues through the duration of the holiday season. Time around loved ones is often emotional and reflective; music is a way of helping people connect with these feelings."

The concert will feature an adaptation of the Dutch hymn We Gather Together, as well as host a percussion improvisation over Native American Indian chants. Ottorino Respighi's The Pines of Rome, and a new musical work by Dean Marshall, Calypso Jam, will also be on the program.

"Each work represents a meaningful reflection on gathering; the Dutch hymn We Gather Together begins rather abstractly and grows until voices gather together forming a hymn of request," explains Professor Smith. "Thanksgiving is built upon our strong connection with American Indians and we celebrate this in a unique interpretation of native rhythms by our percussion section."

Calypso Jam is a new piece of music written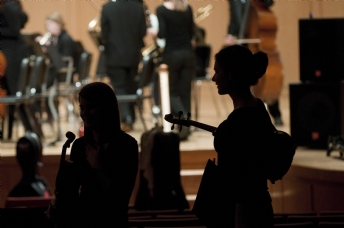 by Marshall, a music educator. Marshall and his Canadian ensemble, Barrage, have energized string programs throughout North America by emphasizing the sheer joy of musicians getting together and making music together.

Closing the concert is the colorful work by Respighi, The Pines of Rome. This piece points to nature areas around Rome, evoking the spirit of people gathering amongst old pine trees.

The DePauw University School of Music is one of the oldest private institutions for post-secondary music instruction in the United States. Learn more online by clicking here.
Back