DePauw and Wabash Presidents Issue Joint Letter to Monon Bell Fans
November 12, 2010
Also: Monon Bell Ticket Information; HDNet to Air Game; Pre-Order Your 2010 Monon Bell Classic DVD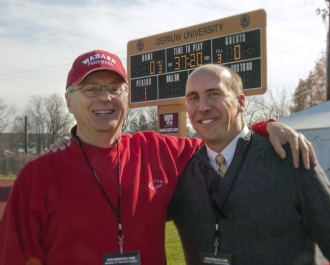 November 12, 2010, Greencastle, Ind. — In a joint letter to fans of DePauw University and Wabash College, the presidents of the two institutions -- DePauw's Brian W. Casey and Wabash's Patrick E. White -- write, "The Monon Bell Classic is an important tradition to both of our schools. Let us honor the legacy of generations of DePauw and Wabash alumni who shaped our unparalleled rivalry and who have entrusted it to us by treating the event and each other with respect." (at left: Presidents White and Casey before last year's Monon Bell Classic)
The letter is published in today's edition of The DePauw as well as in Wabash's student newspaper, The Bachelor. The presidents state, "The rivalry brings out the very best in the student-athletes who will battle on the gridiron this Saturday. When the game is done, both teams will line up, shake hands, and show the respect and sportsmanship that is at the heart of this historical series. We ask that you -- as students, faculty, staff, and alumni -- do the same."
Drs. Casey and White add, "This rivalry flourishes because it is grounded in mutual respect and admiration. As presidents, we have worked together in the last three years to advance the rivalry -- not by identifying our schools' differences, but by accentuating the values of the liberal arts that we share. Furthermore, we have begun to work together to achieve our common goals -- such as shared foreign language instruction and a collaborative Asian Studies program."
Their note continues, "For three hours on Saturday, we encourage you to support your team with enthusiasm. After the game, take a cue from the football teams to shake hands and congratulate one another on a great, hard-fought Monon Bell Game."
Read the complete letter here.
Kickoff for the 117th meeting on the football field between DePauw University and Wabash College is set for 1:07 p.m. Saturday. The game will again be televised nationally by HDNet, with commentary by Kenny Rice and Paul Maguire. Sideline reporters will be Brad Wochomurka '04 for DePauw and Matt Hudson for Wabash. Alumni, parents and friends of the two colleges will gather in cities across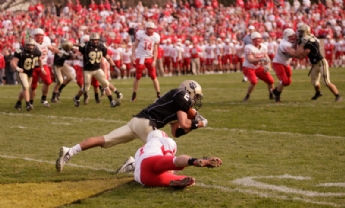 the nation for telecast parties on game day. Preview the student-produced spot which will run during the telecast here.
Wabash leads the all-time series 54-53-9, while DePauw leads in games played for the Monon Bell (introduced as the winner's prize in 1932) by a 37-35-6 count.
Pre-orders are now being accepted for the 2010 Monon Bell DVD. Learn more here. DVDs of 2001-09 Monon Bell Classics are still available in limited quantities. An online order form can be accessed by clicking here.
A complete roster of "Monon Memories" -- video highlights of past classics -- can be found here.
Access DePauw's Monon Bell Web page here.
Back