Upcoming Visitor Oscar Arias to Attend Meeting of Fellow Nobel Peace Prize Winners
November 11, 2010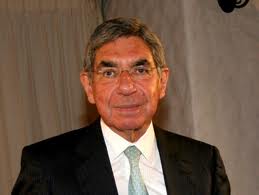 November 11, 2010, Greencastle, Ind. — Oscar Arias, the former two-time president of Costa Rica who will visit DePauw University on December 8, will attend a meeting with other winners of the Nobel Peace Prize, which begins tomorrow in Hiroshima, Japan. Other attendees will include former South African President F.W. de Klerk, who was on the DePauw campus in May, and the Dalai Lama. But a Canadian Press report states that Mikhail Gorbachev, an October 2005 visitor to campus, will miss the session in Japan due to health issues.
"The annual World Summit of Nobel Peace Laureates brings past award recipients together to call attention to their achievements and work, as well as push the prize's overall message of human rights and nonviolence,' writes Jay Alabaster, who notes that the meeting "will focus on nuclear non-proliferation ... Gorbachev, 79, was one of five Nobel peace laureates who signed a letter calling on President Barack Obama to attend this year's meeting and give fresh momentum to his call for a world without nuclear arms.
Obama, who won the Peace Prize in 2009 and will be in Japan this weekend to attend a summit of world leaders, declined the invitation." (at right: Gorbachev speaks in DePauw's Neal Fieldhouse; October 27, 2005)
Read more here.
Presidents Arias, de Klerk and Gorbachev have been brought to Greencastle by DePauw's Timothy and Sharon Ubben Lecture Series. Established in 1986 through the generous support of two 1958 DePauw graduates, the Ubben Lecture Series was designed to "bring the world to Greencastle" and presents events which are available for students, faculty, staff, alumni and the local community to enjoy. Other past guests have included Tony Blair, Benazir Bhutto and Elie Wiesel.
Oscar Arias Sanchez will become the eighth Nobel Laureate to deliver an Ubben Lecture at DePauw, and the sixth recipient of the Nobel Peace Prize. Learn more about his upcoming visit, which is free and open to the public, in this article.
To view a complete roster of Ubben Lecturers -- which includes links to video clips and news stories -- click here.
Back