Nick Mourouzis Receives 'Spirit of the Monon Bell' Award
November 11, 2010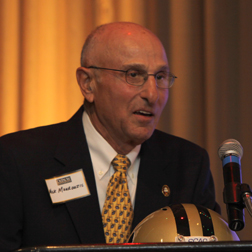 November 11, 2010, Greencastle, Ind. — Nick Mourouzis, DePauw University's all-time winningest football coach and inductee of the Indiana Football Hall of Fame and Miami University's "Cradle of Coaches," is being recognized for his many contributions to the DePauw-Wabash football rivalry. "Coach Nick" was presented with the 2010 Spirit of the Monon Bell award tonight at the annual pre-game gathering of Wabash and DePauw alumni, which took place at the Murat Shrine Temple in downtown Indianapolis.
DePauw, in turn, presented its 2010 "Spirit" award to Pete Metzelaars, a 1982 Wabash graduate who was a star tight end in the National Football League, playing in four Super Bowls.
Each college honors an individual from the other institution for their efforts to build the Monon Bell Classic rivalry. DePauw and Wabash have played 116 times since 1990.
Past DePauw winners of the Spirit of the Monon Bell award are:
1982 - F.C. Tucker
1984 - Andrew Paine
1986 - Richard Warne
1988 - William F. Welch
1990 - Tommy Mont
2001 - T. M. Englehart
2002 - Michael Smith
2003 - David Becker
2004- Stephen Williams
2005 - Philip Eskew
2006 - Max Hittle
2007 - Thomas Yeo
2008 - Mark Dinwiddie
2009 - Ken Owen
Mourouzis, professor emeritus of kinesiology at DePauw, guided the football Tigers from 1981 through 2003. He amassed 138 victories, the most in University history. In 1996, he founded Chi Alpha Sigma, the nation's first collegiate scholar-athlete honor society.
In 2004, DePauw's senior class selected Mourouzis to deliver the commencement address at their graduation. Access a summary of that event by clicking here. The coach is also featured in this recent video on his 2000 team.
The 117th Monon Bell Classic kicks off at 1:07 p.m. Saturday in Crawfordsville. Learn more here.
Back