Saturday's Bell Battle Carries "Extra Importance": Newspaper
November 12, 2010
Also: Monon Bell Ticket Information; HDNet to Air Game; Pre-Order Your 2010 Monon Bell Classic DVD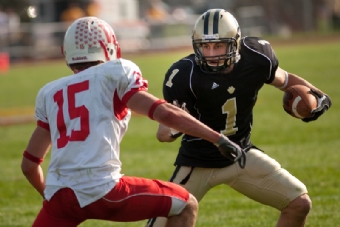 November 12, 2010, Greencastle, Ind. — "The coaches and players from DePauw University and Wabash College say the 117th Monon Bell Classic doesn't need extra importance for them to be focused, but it certainly has it this year," begins a story published in today's Fort Wayne News-Sentinel. "For the first time in school history, the NCAA Division III No. 21 DePauw Tigers take a 9-0 record to Crawfordsville to face their rivals, the 7-2 Wabash Little Giants, who have also received votes in the national polls," writes reporter Jonathan Batuello, a 2010 DePauw graduate.

DePauw head coach Robby Long tells the newspaper, "It doesn't matter who's clinched what or who has what on the line. This game means so much on both sides that you're going to get the best shot from the other team and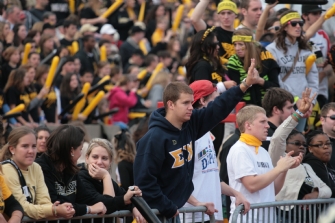 you have to prepare all week and put your best effort in."

Batuello notes, "DePauw has already captured its second playoff berth in school history by winning its first undisputed Southern Collegiate Athletic Conference championship and the automatic bid that comes with it. Wabash still can potentially win the Northern Collegiate Athletic Conference championship and the playoff spot that goes with it, but it would need a Wittenberg University loss Saturday. This week, though, the rest of the season and potential in the future don't matter. It's a special week for two teams that are part of the 12th most-played college football rivalry in the nation and currently has a television contract with HDNet."

The article notes the efforts of DePauw's Michael Engle and All-American wide receiver Alex Koors,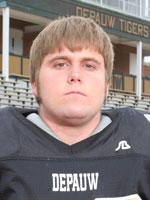 two of a record thirty seniors on the Tiger team.
Access the complete article at the News-Sentinel's website.
"It's a great rivalry, bigger than the teams competing in it," senior defensive end Tyler Doane (pictured at left) tells the Gary Post-Tribune in another Monon Bell preview story today. "With all the alumni coming back the passion is as good as it gets."
John Mutka writes that DePauw has "beaten Wabash twice in the last three seasons, but the Little Giants won last year, 32-19. That gives them a 54-53-9 lead, the closest in collegiate football for a series of that length. Wabash's Hollett Stadium normally seats 5,000, but extra bleachers often double attendance for the season-ending affair. It peaked in 2006 when 11,669 showed up at Crawfordsville, nearly doubling the population of that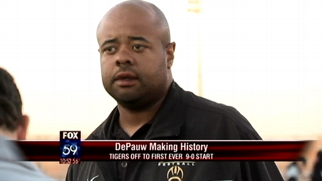 city for one day."
Read more by clicking here.
Head coach Robby Long and offensive coordinator Dustin Ward appeared live this morning on Champaign, Illinois CBS affiliate WCIA-TV. The interview, conducted via Skype, was done by the station's morning news anchor Anne (Ewald) Dill, a 1999 DePauw graduate. See it here.
Last night, Indianapolis Fox affiliate WXIN carried a preview of Saturday's game. Access a video clip here.
Kickoff for the 117th meeting on the football field between DePauw University and Wabash College is set for 1:07 p.m. tomorrow. As of this morning, 182 tickets are still available on the DePauw side.
The game
will again be televised nationally, with commentary by Kenny Rice and Paul Maguire. Sideline reporters will be Brad Wochomurka '04 for DePauw and Matt Hudson for Wabash. Alumni, parents and friends of the two colleges will gather in cities across the nation for telecast parties on game day. Preview the student-produced spot which will run during the telecast here.
Orders are now being accepted for the 2010 Monon Bell DVD. Learn more here. DVDs of 2001-09 Monon Bell Classics are still available in limited quantities. An online order form can be accessed by clicking here.
A complete roster of "Monon Memories" -- video highlights of past classics -- can be found here.
Access DePauw's Monon Bell Web page here.
Back