117th Monon Bell Classic Kicks Off at 1:07 Today
November 13, 2010
Also: HDNet to Air Game; Order Your 2010 Monon Bell Classic DVD; Presidents Issue Joint Letter; DePauw Spot; See 'Monon Memories';

[Download Video: "Ballad of the Monon Bell - 2007 Version" - 10,419kb]

[Download Audio: "Ballad of the Monon Bell - Stereo" - 2514kb]
November 13, 2010, Greencastle, Ind. — "Emotions play such a large part in this game," DePauw University senior linebacker Ryan Preuss tells the Indianapolis Star in a story previewing today's annual football game between DePauw and Wabash College. Preuss, who plays in his final Monon Bell Classic today, adds, "You've got to be calm and focused throughout the week and let the emotions build up."
Michael Pointer writes, "But at kickoff today in Crawfordsville, those emotions will be at a fever pitch not just for the DePauw and Wabash players, but for students and alumni of the schools meeting for the 117th time on the football field ... DePauw leads the series 37-35 with six ties since the 300-pound locomotive bell was donated by the Monon Railroad in 1932, but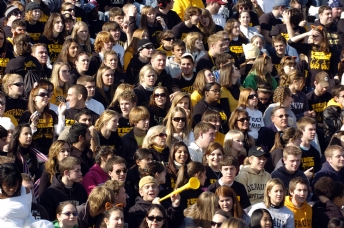 Wabash leads the overall series 54-53-9, thanks to the Little Giants' 32-19 victory last season."
Wabash head coach Erik Raeburn states, "It's unbelievable to me that these two schools have played so many times, yet we hold just a one-game advantage. It's just been super close. But to have a great rivalry, I guess that's the way it has to be."
The Star notes, "This year, DePauw is 9-0 for the first time. It is ranked 18th in the American Football Coaches Association D-III poll and has earned an NCAA Tournament berth by winning the Southern Collegiate Athletic Conference title. Wabash (7-2) likely will see its season end today, no matter the outcome ... DePauw has continued to roll because it returned 31 seniors from last year's team and senior Michael Engle has been a more-than-adequate replacement for record-setting quarterback Spud Dick."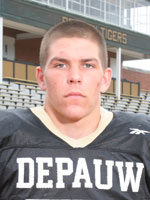 "Most of us have been starting since our freshman year," Preuss (pictured at left) tells the paper. "What it comes down to is we're really pushing everyone else. We have that experience and that knowledge."
Pointer adds, "This will be the first Monon Bell game played on artificial turf. Little Giant Stadium had it installed after last season. It may come in handy. Today's forecast is for unseasonably warm temperatures in the mid-60s, but showers are expected."
Access the complete article -- "This rivalry comes down to emotion" -- at IndyStar.com.
Another story in the Lafayette Journal and Courier reports that up to 12,000 fans are expected for the 117th meeting between DePauw and Wabash. Ken Thompson reports, "Today's game marks the 100th consecutive year the rivalry is being staged. The series dates back to 1890 (Wabash leads 54-53-9) but there was no game in 1910 when Wabash cancelled most of its season following a player's death."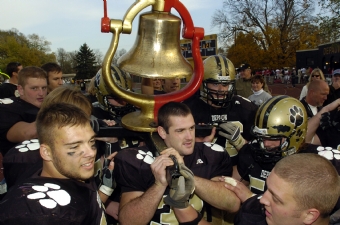 Today's kickoff is set for 1:07 p.m. (EST). The game will again be televised nationally by HDNet, with commentary by Kenny Rice and Paul Maguire. Sideline reporters will be Brad Wochomurka '04 for DePauw and Matt Hudson for Wabash. Alumni, parents and friends of the two colleges will gather in more than 60 cities across the nation for telecast parties. Preview the student-produced spot which will run during the telecast here.
Orders are now being accepted for the 2010 Monon Bell DVD. Learn more here. DVDs of 2001-09 Monon Bell Classics are still available in limited quantities. An online order form can be accessed by clicking here.
A complete roster of "Monon Memories" -- video highlights of past classics -- can be found here.
Access DePauw's Monon Bell Web page here.
Back