UPI Column Cites Prof. Jeff McCall '76
November 14, 2010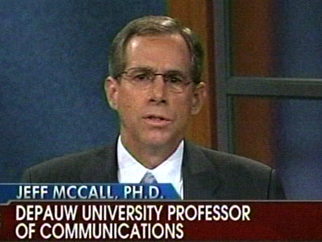 November 14, 2010, Greencastle, Ind. — A nationally distributed United Press International summary of "post-election notes" includes comments by Jeff McCall, professor of communication at DePauw University, on the effectivess of the weekly presidential address within the modern media landscape. In comments first made to Congressional Quarterly, Dr. McCall notes that "President Obama is plenty visible in the media already." and as that the weekly messages are reaching fewer people, continuing to produce the messages suggests the White House is "just imprisoned by tradition."
President Franklin D. Roosevelt launched the concept of "fireside chats," and Ronald Reagan revived the weekly presidential address in
1982.
Read more at the St. Louis Globe-Democrat and in this recent story.
A 1976 graduate of DePauw, Jeffrey M. McCall is the author of Viewer Discretion Advised: Taking Control of Mass Media Influences and has been cited in articles published by more than 100 newspapers and appeared nine times on FOX News Channel's O'Reilly Factor.
Back