USA's Partisan Divide Widening and Troublesome, Writes Lee Hamilton '52
November 16, 2010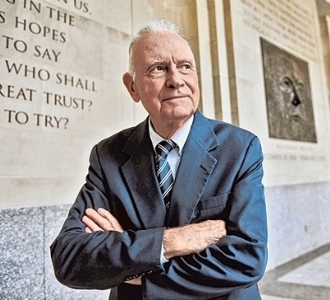 November 16, 2010, Greencastle, Ind. — "The two parties seem farther apart than they have been for decades -- and appear less inclined to bridge that gap than I've ever seen," writes veteran statesman Lee Hamilton in a newspaper op-ed. "The reasons are so numerous that I wonder if we can ever find our way out," adds the 1952 DePauw University graduate who served 34 years in the U.S. House of Representatives and co-chaired the Iraq Study Group and 9/11 Commission.
The Democrat notes, "The leaders of both parties have made cold calculations they can accomplish more by not cooperating with each other than striving to find common ground. The Republicans have rebuilt their political standing through unyielding opposition; the Democrats have notched their legislative goals by finding ways to short-circuit Republican involvement. The power that has flowed to congressional leaders on both sides of the aisle over the past two decades has made it possible for them to polarize Congress in pursuit of electoral advantage. We have today a system that rewards politicians for conflict and encourages them to demonize opponents."
Hamilton adds, "In recent years, many members of Congress have either come from the extremes of their party, or know that in order to win a primary or prevent a strong opponent in the primary, they have to appeal to the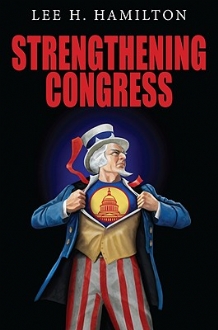 activist -- and hence more immoderate -- members of their party. They increasingly depend on an activist base for votes, money, and job security. District lines drawn to boost chances of one or another party don't help, either. They make it more likely the real election will be in the primary. Torrents of money that now flow into election contests help to exacerbate and intensify differences. These trends have seriously eroded the political center in Congress."
Read the complete essay at the website of Port Huron, Michigan's Times Herald.
Now the director of the Center on Congress at Indiana University and author of Strengthening Congress, Lee H. Hamilton was recently called "one of the wisest and most experienced people in Washington" by David Ignatius of the Washington Post, while USA Today's Susan Page wrote, "He is one of the last of the Washington 'wise men,' figures who ruled Congress, led Cabinet agencies and shaped foreign policy during a less partisan era."
Learn more about him in this recent article.
Back