Mary Meeker '81 Examines 'State of the Internet' at Web 2.0 Summit
November 16, 2010
November 16, 2010, Greencastle, Ind. — In an address today, Mary Meeker, managing director of Morgan Stanley and 1981 graduate of DePauw University, "came up with 10 questions that Internet executives should ask themselves," reports the Los Angeles Times. "She reeled off thoughts, statistics and predictions for the Internet industry during a presentation at the Web 2.0 Summit in San Francisco on Tuesday. Among the most eye-popping: a $50-billion online advertising boom. Meeker pointed out that people spend 28% of their time on the Internet but that only 13% of advertising is there."
Jessica Guynn writes, "She also said that Facebook has 'one of most undermonetized classes of advertising on the Web' and that 'Twitter is in a similar situation.'"
Meanwhile, a Washington Post summary of Meeker's speech notes that "she expects smartphone sales will surpass PC and laptop sales next year, with more than 450 million units sold." Cecilia Kang reports, "In her 'State of the Internet' report, Meeker spoke about growth in the smartphone market and its link to social networking sites, as well as about Internet video and advertising. Watch out for mobile growth in China, she said. Its population of smartphone us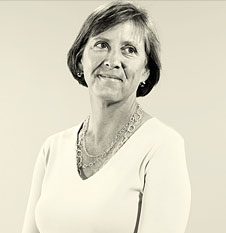 ers is relatively nascent, with 14.5 million 3G users, or two percent of the population. That compares with 37 million in the United States. But that population grew by 941 percent in the third quarter compared with one year ago."
Mary Meeker serves as leader of Morgan Stanley's global technology research team, co-covering U.S.-based internet and consumer software companies. She was an early and consistent believer in online opportunities and has been called "Queen of the Internet."
After earning a B.A. from DePauw, where she majored in psychology, Meeker received an M.B.A. in finance from Cornell University.
She spoke at the Symposium for DePauw Entrepreneurs on October 6, 2001. A story that includes video and audio clips from that presentation can be accessed here.
Back