A Hunt for Cache
November 17, 2010
Collaboratory for Geographic Information System (GIS) and Mediterranean Archaeology (CGMA) is a
research and teaching initiative undertaken by four schools: College of Wooster, Millsaps College, Rhodes College and DePauw. They received a $200,000 grant in 2002 from the Mellon Foundation that initially funded their work.

There are two parts to the initiative – a research project and a program of education for undergraduate students. Pedar W. Foss, dean of academic life and associate professor of classical studies, is the faculty CGMA representative at DePauw. (Stephen G. Hesterberg '13, above, finds a geocache.)

"The purpose of the initiative is to try to address a persistent problem in archaeology – the technique of survey archaeology, which involves looking at large patterns in the landscape over very long periods of time," Foss says. "It's usually non-intrusive and non-destructive – recording what appears on the surface over large areas.

"It's also mapping the area and trying to find developmental patterns historically for large regions. In recent decades – with the advent of satellite imagery – we can get at what's underneath without actually digging with a kind of landscape mapping that satellites have made possible.

"All of these techniques have allowed us to get a much better framework for the topography of the greater Mediterranean area, and we have a much better way of placing in that landscape where people did things in the ancient world.

"We are interested in looking at these big patterns of behavior in the past. The problem is that often these projects have been done by individual scholars or individual countries, and the literature doesn't have one place where you can find all the work that's been done.

"We want to compare patterns across really large areas to try to answer big historical questions, and the problem was, there was nothing that could put all of that together. So, we decided to simply provide an inventory using GIS.


"By doing this, it would allow us to tell everyone working in the area what surveys have been done, the boundaries of those surveys, the people who worked on those surveys, where they published the information, when they worked and the techniques they used. This system could save immense amounts of time and trouble.

"At the same time, as undergraduate teaching institutions, we didn't want to have just a research project, and we also needed help. From the beginning, we built in a program of education for undergraduate students at these four colleges whereby, every fall, they take a synchronous online course taught in real time by a faculty member from one of these institutions," Foss says. The teaching rotates each year from school to school.

The class teaches archaeology students real hands-on skills. There are very few programs in the U.S. that teach GIS and archaeology because it's very technically specific and usually only offered as a graduate-level course. "One of the things that we are able to offer these students is a head start in the kind of preparation and practical training that makes them stand out for graduate programs," Foss says.

A significant portion of the class requires students to design, implement and report on an actual archaeology-related project that has a geographical component.

This fall, DePauw students are studying geocaches. The geocaching website states, "Geocaching is a high-tech treasure hunting game played throughout the world by adventure seekers equipped with GPS (global positioning system) devices. The basic idea is to locate hidden containers, called geocaches, outdoors and then share your experiences online." (geocache and GPS in above right photo)

"In our case, we are not only interested in where people are putting these, but also the distribution," Foss says. "The environment in which people live will constrain – to some degree – where the caches are located.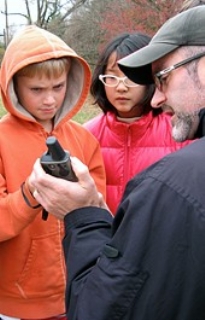 If you take something from the geocache, you leave something of equal or greater value. "We look at what people put inside the boxes. They are usually not worth very much, but people choose them carefully – they have meaning. We examine the choices made in the artificial artifacts that are left for others to see and take, if necessary.

"Students are treating these as deliberate archaeological deposits that are constantly changing. People are always adding and subtracting from them. You can keep track of who's been where because people log their visits. Even though they use pen names or code names, you can also track personalities that are going to these sites," Foss says. (Foss, at left, teaching local children about GPS and geocaching.)

"Students are learning how to sample, and one of the skills they are learning has to do with statistics. In a population of x items scattered over a particular landscape, how do you sample the landscape and the items in that landscape so that you can extrapolate from that small sample what you think the larger behavior is?

"They have to determine several things – how big that sample should be, how to take the sample, how to be sure that it's statistically representative so that the results can scale-up," Foss says. "That's a big challenge, and it's an important part of archaeology because we are always sampling. We never ever dig up the whole picture. So, how do you make the whole from the part?"

Stephen G. Hesterberg '13 is a student in the class and plans to apply what he's learning to future research. "GIS is a cutting-edge tool that can be applied to many different fields. This class has showed me how important GIS can be for a wide variety of social and physical sciences," says Hesterberg, a biology major and biochemistry minor.

Kyle E. Uhlmann'13 says, "We are learning a lot about archaeological surveys and the conclusions you can draw after you put the raw data into a database and analyze it using GIS. We can apply it by conducting our own survey over the course of the semester. We surveyed all the geocaches within 20 km of Greencastle, and it turned out to be quite a bit of work – but it sure beat sitting in a classroom."

Uhlmann compares the feel of the virtual class to using Skype – except with homework. "You're a student in the virtual class with students from three other colleges, too, so it's fun to see what they are doing, and what their lives are like," Uhlmann says.

To learn more about the initiative, visit the CGMA website.
Back