Junior Quoted in Newspaper Story
November 22, 2010

November 22, 2010, Greencastle, Ind. — "Mitch Strobl, a DePauw University biology student and a writer for Huntinglife.com, said one of the reasons deer accidents are so prevalent right now is because the deer are in their mating season, which is called the rut," notes a story published today in Greencastle's Banner-Graphic. The article by Josh Garvey examines the increase in accidents involving deer and automobiles that happens at this time each year.
"Strobl said the rut, which is brought on by a doe's estrus or reproductive cycle, can be affected by a variety of things, such as the amount of daylight, the weather, the moon cycles and other factors," Garvey reports. "Strobl said he thought the amount of daylight is the single biggest cause of the rut beginning."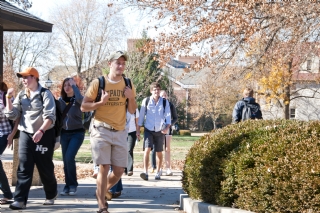 Strobl tells the newspaper, "Basically the estrus cycle has recurring physiologic changes that are the result of reproductive hormones. They're in heat right now. This only happens a couple of weeks during the year."
Read the complete text at the newspaper's website.
Strobl was recently featured in a story which was carried by the Wall Street Journal and other oulets, which examined how individuals are using social media tools to link with employers. Learn more here.
Back