Image by Jeffrey Martin '98 is One for the Record Books
November 22, 2010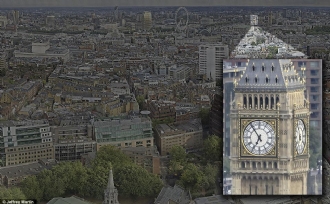 November 22, 2010, Greencastle, Ind. — "A newly published 360-degree image of London takes the crown as the largest, highest-resolution panoramic photo in the world," notes the Daily Mail of London. "Shot by photographer Jeffrey Martin over a period of three days from the top of the Centre Point building at the crossroads of Oxford Street and Tottenham Court Road, the image reveals the highest-resolution view of any city that has ever been captured." Martin is a 1998 graduate of DePauw University.

The newspaper reports, "The image of London has a total resolution of 80 gigapixels, or 80 billion pixels. This new London gigapixel image, if printed at normal photographic resolution, would be 115 feet long and 56 feet high ... From this vantage point -- 36 stories up in the air -- an astonishing number of landmarks, houses, skyscrapers, shops, offices, and streets are visible ... Martin, a panoramic photographer and the founder of 360Cities.net, created the London gigapixel image from 7886 high-resolution individual photos taken from the Centre Point building.

These thousands of photos were then stitched together as one single image on a powerful Fujitsu CELSIUS computer."
The story, which is accompanied by several images, adds, "Previous attempts at world record gigapixels include a 26-gigapixel image of Paris, a 70-gigapixel image of Budapest, a 26-gigapixel image of Dresden, and Martin's previous record holder from 2009, an 18-gigapixel spherical image of Prague."

Access the article by clicking here.
View the panoramic image here.
Learn more about Jeffrey Martin in this previous story.
Back