Prof. Bruce Stinebrickner Discusses President Obama & Indiana with The Hill
November 23, 2010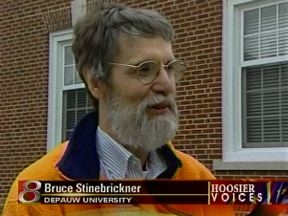 November 23, 2010, Greencastle, Ind. — A story by The Hill on President Barack Obama's visit to the Hoosier State today includes analysis from "Bruce Stinebricker, a political science professor at Indiana's DePauw University." Obama was the first Democratic presidential candidate to carry Indiana since Lyndon Johnson in 1964. The article asks whether today's visit to an auto plant in Kokomo suggests the Obama team sees Indiana as being "in play" in 2012.
Looking at the political landscape after this month's mid-term elections, Dr. Stinebrickner, Leonard E. and Mary B. Howell Professor of Political Science at DePauw, "noted that it wasn't just Republican gains in Indiana that made the terrain forbidding for Obama, but the margins by which the GOP pushed back on years of incremental Democratic gains. Brad Ellsworth (D), for example, a centrist, Blue Dog congressman, lost to [Dan] Coats, a former lobbyist, by almost 15 percentage points"in the race of U.S. Senate.
"If it was a tidal wave nationally, it was a tsunami in Indiana," Stinebricker says.

Sam Youngman writes, "To be sure, Obama still has a number of paths to reelection that don't involve Indiana. He didn't even really need it in 2008. At the time, Stinebricker said, it was the icing on the cake. In 2012, Obama and his staff would be thrilled just to have the cake."
Access the article by clicking here.
Last month, Professor Stinebrickner was quoted in an Indianapolis Business Journal story on the presidential aspirations of Gov. Mitch Daniels and U.S. Rep. Mike Pence."
Back