"Trailblazing Analyst" Mary Meeker '81 Joins Venture Capital Firm KPCB
November 29, 2010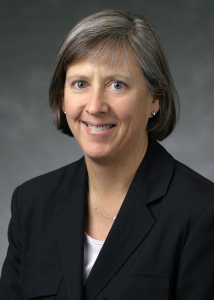 November 29, 2010, Greencastle, Ind. — "Mary Meeker, the Morgan Stanley technology analyst who gained renown for predictions on Internet growth in the 1990s, is leaving the bank to join venture capital firm Kleiner Perkins Caufield & Byers as a partner," reports Bloomberg. "Meeker, 51, will be based in California's Silicon Valley and will travel frequently to New York and Asia, Kleiner Perkins said in a statement today. Meeker, who covered Google Inc., EBay Inc., and Yahoo! Inc., led the global technology research team at Morgan Stanley, where she worked since 1991."
Michael J. Moore and Olga Kharif write, "Called 'Queen of the Net' by Barron's in 1998, Meeker made her name with a publication entitled 'The Internet Report' in 1995 and her bullish calls on Web companies, including Amazon.com Inc. and America Online Inc. Earlier this month, Meeker predicted a $50 billion online advertising boom in an address at the annual Web 2.0 Summit in San Francisco ... Meeker, an Indiana native who graduated from DePauw University and earned an M.B.A. from Cornell University, says she draws on personal experience, as well as data analysis and company research, to form her views."
"We're at the beginning of another great wave of tech innovation and I am incredibly excited by the opportunity to help the next generation of Internet technologies and leaders," Meeker said in a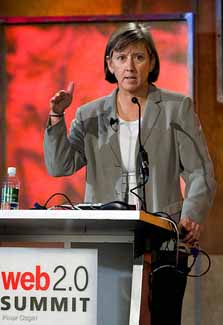 statement today.
"Mary was an early supporter of some of the biggest technology investment winners of the past 20 years," states KPCB partner John Doerr. "Her advice and support are already highly sought after by entrepreneurs and in this new role, she will be able to spend even more time providing more direct assistance."
Adds KPCB partner Ted Schlein, "Mary's experience, insight and deep connections will benefit innovators worldwide. Her unique expertise in predicting Internet technology, social and mobile trends -- including their direction and scale -- is a huge advantage for rapidly growing ventures."
Access the full article at Business Week's website. Another story can be found at MarketWatch, while a New York Times report calls her "a trailblazing analyst."
Mary G. Meeker majored in psychology at DePauw and is a 1981 graduate of the University. She spoke at the Symposium for DePauw Entrepreneurs on October 6, 2001. A story that includes video and audio clips from that presentation can be accessed here.
Back