Kyle Smitley '07 Discusses How Winter Term Experiences Led Her to Create Socially Responsible Company
November 27, 2010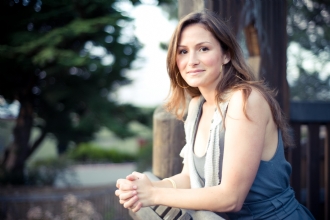 November 27, 2010, Greencastle, Ind. — Kyle Smitley, a 2007 graduate of DePauw University and founder and owner of barley & birch, a line of organic children's clothing, was one of the featured guests on Environmentally Sound, which airs on Toledo, Ohio's WJR radio.
Smitley explained that she started her company in the period between her graduation from DePauw and entering the University of Toledo College of Law. "My inspiration was sort of two-sided," she noted. "Part was that I saw a huge gap in the market for a brand that had really, really high social and environmental standards and that really lived up to them ... And then on the flip side, it was to then use profits to create this change or this sort of 'growing good' -- environmentally and in various organizations with social missions in which I'd worked in Central America, Haiti, among others."
The entrepreneur says she was "lucky" that DePauw "had a great program that let us
students spend January living in other places to make a difference," referring to the Winter Term in Service, which she participated in as an undergraduate.
Hear the program by clicking here.
Kyle Smitley was among Inc.'s 2009 listing of "30 Under 30: America's Coolest Entrepreneurs." Learn more in this previous story.
Back