Wall Street Journal Analysis of WikiLeaks Quotes Prof. Bob Steele '69 & Bob Giles '55
November 30, 2010
November 30, 2010, Greencastle, Ind. — "An organization has obtained secret documents. They are newsworthy, but they could be damaging as well, to national interests and individuals. Do you publish?" That's the question examined in a Wall Street Journal story today on the latest release of senstitive government files by WikiLeaks. Russell Adams and Jessica E. Vascellaro write, "Bob Steele, the director of the Prindle Institute for Ethics at DePauw University, said that citizens had a right to hold government accountable."
"That relates to the product of government and the process of government and what government leaders do and how they go about doing it," Dr. Steele tells the Journal. Because the files discuss diplomatic matters, "there is potentially greater danger in the release of documents that address ongoing and sensitive negotiations and operations."
Later, the same article notes, "Bob Giles, curator of the Nieman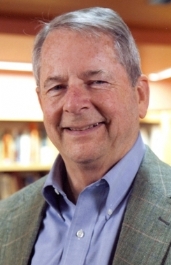 Foundation for Journalism at Harvard University, said news organizations had demonstrated 'good, ethical behavior' in how they had reported on the WikiLeaks documents in general, noting they had repeatedly withheld certain sensitive information." Giles (pictured at right) is a 1955 graduate of DePauw University.
Read the full story at the newspaper's website.
Robert M. Steele, Phyllis W. Nicholas Director of DePauw's Janet Prindle Institute for Ethics and the University's Distinguished Visiting Professor of Journalism Ethics, is a 1969 graduate of DePauw. He was quoted yesterday in a Variety article and recently discussed the suspension of MSNBC anchor Keith Olbermann with the New York Times and Associated Press. On July 27, Steele was interviewed about a WikiLeaks disclosure by the NBC Nightly News.
Source: Wall Street Journal
Back