Book by Recent Visitor Rebecca Skloot on 4 'Best of 2010' Lists
November 30, 2010
Also: Rebecca Skloot's Ubben Lecture
November 30, 2010, Greencastle, Ind. — "This thorny and provocative first book -- it's about cancer, racism, scientific ethics and crippling poverty -- floods over you like a narrative dam break," writes the New York Times' Dwight Garner, who has named The Immortal Life of Henrietta Lacks one of 2010's top ten books. "It's one of the most graceful and moving nonfiction books I've read in a very long time. More than 10 years in the making, it feels like a book Rebecca Skloot was born to write."
Skloot was on the DePauw University campus earlier this semester to deliver a Timothy and Sharon Ubben Lecture on September 9.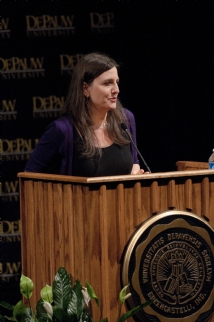 Another entry on the best books list is Kay Ryan's The Best of It: New and Selected Poems. Ryan visited Greencastle in April 2007.
Access Garner's complete summary at the Times' website.
Skloot's book is one of only three titles to appear on three other "top books of 2010" lists -- compiled by Publishers Weekly, Amazon.com and Library Journal -- according to a Christian Science Monitor article.
Earlier this month, Rebecca Skloot was awarded the Wellcome Trust Book Prize, which is open to works of fiction and nonfiction published in the U.K. with a theme of health and/or medicine. Read more in this recent story.
Established in 1986 through the generous support of 1958 DePauw graduates Timothy H. and Sharon Williams Ubben, the Ubben Lecture
Series was designed to "bring the world to Greencastle." Previous guests have included Benazir Bhutto (pictured at left), Mikhail Gorbachev, Tony Blair, Margaret Thatcher, Bob Woodward, Howard Dean and Karl Rove, Spike Lee, Shimon Peres, Todd Rundgren and Paul Rusesabagina. To view a complete roster of Ubben Lecturers -- which includes links to video clips and news stories -- click here.
Oscar Arias, Nobel Peace Prize recipient and former president of Costa Rica, will deliver the next Ubben Lecture on Wednesday, December 8. Learn more in this article.
Back